CONTENTS: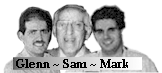 Air-conditioning repair calls flood shop phone lines.
Japanese seat belt manufacturer recalls belts.
Glenn passes L1
Technicians take ASE exams
General Tire Sale
Attention owners of 1990- 1993 Volvos!
Pagers available for service customers
Follow-up phone calls are a success!
Is your windshield cracked or chipped ?
Tell us what you think

---
Our E-mail Address: samgauto@samscars.com
Our Phone Number Is 508-999-3213
Air-conditioning repair calls
flood shop phone lines.
During the past few very hot days here in the city we were recently flooded with phone calls regarding air-conditioning repairs. We are handling calls on a first come first serve basis. We also recently purchased a third piece of air-conditioning recovery equipment to allow us to service late model automobiles equipped with the new style Freon known as R134A.
Japanese seat belt manufacturer
recalls belts.
As you may have read in the local news, a Japanese seat belt manufacturer has recalled millions of seat belts on cars nationwide. We have been receiving many calls from people wanting to know if their car is going to be involved in the recall. As with all recalls, the public is notified first before dealership personnel. As of this printing we do not know which cars will be involved. If your car is involved, the auto manufacturer will notify you by mail within the next 3-6 months.

Glenn passes L1
Recently Glenn Giammalvo passed an extremely difficult test known in the automotive industry as L1. This comprehensive test is supplied by ASE, The National Institute of Automotive Service Excellence. The test checks the technicians approach to solving tough driveability problems on modern computerized cars with 1-21 on board computer systems. This test is so difficult that ASE is reporting that more than 70% of technicians fail. Glenn passed this test on the first try. Hats off to Glenn!
Technicians take ASE exams
Recently, Mark Giammalvo, Larry Rivard, and Mike DaCosta were tested by ASE in several automotive areas. We should have their results shortly.
Good luck to them all!
General Tire Sale
We are currently involved in a General Tire Promotion. Several different types of General Tires will be on sale this month. Please feel free to call Mark or Rosie for prices.
Attention owners of
1990- 1993 Volvos!
Volvo has recently announced a recall on 1990-1993, 200,700, and 900 series. This recall will not require a visit to your Volvo dealer, however, Volvo wants to make sure you receive an important letter in the mail which you should place in your owner's manual. The letter states:
...Warning! If your car has been
subjected to flood conditions (e.g.,
soaked carpeting/standing water on
the floor of the vehicle) or if your
car has become flood damaged in
any way, do not attempt to start the
vehicle or put the key in the ignition
before disconnecting the battery.
This may cause airbag deployment
which could result in serious
personal injury...
If you would like a copy of the letter for your owners manual you may call Volvo customer service at 1-800-458-1552, or ask Mark to make you a copy.
Pagers available for service customers
If you are planning to leave your car with us for service and are not going to be near a phone where we can reach you, feel free to ask us for a pager. This way if you need an estimate, we can contact you as soon as we have the estimate totaled, and if you decide to go ahead with the repair, we can fix the car the same day. Also, if we find an item on your car that needs attention, we can advise you immediately so you can decide if you want us to resolve the concern while your car is already here.
Follow-up phone calls are a success!
We have had a lot of great input from our customers regarding the follow-up phone call. As you probably already know, Mark is calling all customers within 3-5 days of a service visit to make sure all the customers service concerns were resolved and to make sure each customer was satisfied. If Mark is unable to reach you, he will send you a post card referring to your service visit with us. If you prefer not to receive a follow-up call, let us know so we can note your customer file.
Is your windshield cracked or chipped ?
If your windshield has a "star" break or is cracked, fear not, we now do insurance authorized windshield replacements on the premises. Also, remember, if you have insurance in MA, their is no deductible to have glass replaced, so the whole job will cost you $0. Please call Mark if you have any questions about glass replacement.
Tell us what you think
Let us know what you think about our first newsletter. We think it provides informative information to the most important people in our business, You, our valued customers. Here at Giammalvo's we like to offer our customers as many, value added services, as possible. Like our pagers, follow -up phone calls, etc. If their is something that we currently do not due, yet you would like, give us a call or drop us a note on it. We will give all customers input consideration.
Our E-mail Address: samgauto@samscars.com
Thanks again for your business.
Please drive safely.
Return to "Top of Page"