CONTENTS: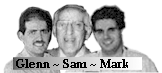 Giammalvo Quarterly, BIG HIT with customers!


Technicians Pass ASE Exams!
Secret Information?
Many Thanks!
What? A New Massachusetts Safety Inspection Program?
Is your car's cooling system overdue for maintenance?
Stopping on time.
Parts Commissions?
Your Patience, Please.

---
Our E-mail Address: samgauto@samscars.com
Our Phone Number Is 508-999-3213
Giammalvo Quarterly,
BIG HIT with customers!
We have been overwhelmed with support from you, our customers, regarding Giammalvo Quarterly. Many of you phoned in, spoke to us in person, or wrote to us. We cannot think of words to express our appreciation. On behalf of the entire staff at Giammalvo's we wish to thank you for your sincere support. We will continue to publish GQ and we hope to bring you valuable information about the automobile industry and us.

Technicians Pass ASE Exams!
We are pleased to announce that all our technicians who participated in the ASE testing program passed! The National Institute of Automotive Service Excellence has notified us of our technician's certifications, as of October 1995. They are listed below.
Glenn Giammalvo:
Masters Degree:
Engine Performance
Engine Repair
Automatic Transmission
Manual Transmission
Suspension & Steering
Brakes
Electrical Systems
Heating & A/C
Advanced L1
Mark Giammalvo:
Engine Performance
Engine Repair
Suspension & Steering
Parts Specialist
Mike Dacosta:
Engine Repair
Suspension & Steering
Brakes
Larry Rivard:
Engine Repair
Engine Performance
Congratulations to them all!
Our technicians will continue to take ASE tests biannually and we will let you know as they pass each level.
Secret Information?
As you may or may not know, we are a member of the Alldata Network. The Alldata is a large computer database which gives us access to 1,300,000 pages of information regarding the repair of your vehicle. Yes, that's right, more than one million pages of technical information available right at our fingertips. Every automobile manufacturer writes technical service bulletins, ( SB's), about common problems they call it "pattern failures" which are discovered after the car is built. Until not long ago, these TSB's were kept secret, and were sent from the factory engineers, to its respective new car dealership service departments. Now, through changes in the law, we have access to the same information, at a price. This information, which formally the auto manufacturers did not want you to see, we can now look up by giving the computer the year, make, model, and engine size of your vehicle. Once this data is entered, the computer will list out all the TSB's on that car. Generally we find that most cars have anywhere from 60 to 300 TSB's. Each time you bring in your car to us with a specific symptom or complaint, one of the first things we will do is, go to the Alldata and look up all the TSB's related to your symptoms. Often the bulletin will read out the exact problem that you are describing to us. For example, just recently a customer phoned in with a complaint, that when taking a sharp right-hand highway exit ramp, with about one quarter of a tank of fuel, the car seemed to lose power. Armed with this good description, and the vehicle type, we went to the Alldata to check it out. Reading all the titles under "driveability" one specific title caught our eye: "Momentary Loss of Power or Hesitation on Turns." When we asked to view the bulletin it went like this: "Some owners of the selected vehicle may comment of, a momentary loss of power or hesitation while driving on sweeping right-hand curves, such as an exit ramp, or on hard right turns with low fuel level (generally six gallons or less). Vehicles that have the above symptoms may have fuel pumps and strainer assemblies slightly mis-positioned on the tank sending unit causing the strainer to not stay fully submerged in fuel. To repair this condition replace the fuel pump strainer with part no. 25121783. This new strainer will stay submerged in fuel to prevent starvation." If it wasn't for this TSB and the Alldata Computer System, how much diagnostic time would it have cost to fix this vehicle? As you can see, this once secret information, and a good description of the symptoms, by you, our customers, will lead us to a quicker solution. The automobile manufactures have an interesting yet unforgiving policy as to who pays for the repair listed in a TSB. If the TSB addresses a safety issue, or pollutes the environment, it will be called a recall and they will pay regardless of how old the vehicle is. Otherwise, all other TSB's will be performed for free, only if the vehicle is under factory warranty. Once the vehicle is out of factory warranty, the owner has to pay, even though they wrote the bulletin and knew it was a design flaw! The Alldata computer also gives us access to recall information, parts pricing and component locations. The component locator portion of the database helps us to find key items on your vehicle which we may need to inspect or test when you have a particular problem. For example, unlike the human body, vehicle components are scattered all over the vehicle, in different places, varying in location from model to model. If the particular test we are performing asks us to test a pink colored wire for five volts and that the wire is located coming out of the body control computer, we have to go to the Alldata just to ask where the body control computer is! On a Cadillac it's under the dash, on a Dodge it's buried inside the fender. The automotive industry is currently involved in an information explosion, as vehicles get more and more complex, we will continue to purchase more and more technical information and equipment. In case your wondering, the Alldata Computer was an initial investment of over $15,000 dollars and we are currently paying upwards of $ 5,000 dollars per year just for the information. As you can see from the information here, it is well worth the investment, as it allows us to repair your car as quickly and accurately as possible.
Many Thanks!
We wish to thank you for calling to let us know when you're canceling or rescheduling your service appointments. We find more and more of you doing this and we think it's great! Just like dentists schedule their "chair" time, we schedule our "lift" time. When we know ahead of time that you can't make your appointment, the technician won't be standing around with nothing to do and we can now help a customer sooner that may have been waiting for a future appointment. Thanks again.
What? A New Massachusetts
Safety Inspection Program?
In case you haven't heard already, the Mass. Inspection program is about to change dramatically during the next year. Starting some time in early 1996, the new program will be implemented. The program, dubbed Enhanced Safety Inspection, (ESI), will require each technician to attend 30 hours of class room and on car training. After they pass, each one will be issued a license as a Massachusetts Enhanced Safety Inspector. In addition, a special Electronic Brake Tester will have to be purchased by shops, like us, who still wish to perform Mass. inspections. Our five technicians have currently registered for training. We are currently considering purchasing one of three different type Electronic Brake Testers. We are making our choice very carefully, since the special tester will cost us close to $30,000 dollars. As part of the new program, each trained ESI Inspector will drive your vehicle over the special brake tester at about 10 miles per hour. The inspector will stop the car abruptly on the tester and within seconds the tester will rate the performance of the brakes at each separate wheel. Immediately the results will printout, pass or fail. If you pass, the inspector will continue with the rest of the emission checks as in prior Mass. inspections. If you fail, the tester will point out which wheel(s) failed, but it won't know what the cause of the failure was. That will have to be separately diagnosed. Causes could be: brake pad wear, brake line problems, faulty calipers, proportioning valve problem, etc.
Is your car's cooling system
overdue for maintenance?
Each automobile manufacturer requires that the cooling system on vehicles be flushed out at 24 month intervals. During a cooling flush, the vehicles cooling system is tied into a special machine that flushes out all the antifreeze and water in the engine. In addition the PH level of the coolant is checked and adjusted with the use of special chemicals which help protect the coolant. At the same time a drop of coolant is placed on a refractometer to analyze the coolant's freeze point. A refractometer is a special tool that allows a drop of coolant to be placed on a glass viewer. The technician then points the refractometer at a light source and looks through the eyepiece. The refractometer passes the light source through the coolant and determines the coolants freeze point. Due to the fact of different type coolants in the marketplace, we rarely use the old "ball & float" type tester because new style coolants cannot be gravity tested. Normally, we send you a yellow post card for regular maintenance that is due on your vehicle. For those of you who received a yellow post card for a cooling flush, and have not yet come in, we will be mailing a special pink post card as a final reminder to call in and make an appointment. Calling in early, before the cold weather arrives, will mean fewer delays in getting this service done. Performing this routine maintenance is the best way to help against premature water pump, heater core, and radiator failure and will help you lower repair costs. All preventative maintenance, when done at the proper intervals, can prevent expensive catastrophic failure.
Stopping on time.
Many late model cars and light trucks are equipped with an anti-lock brake system, (ABS). Most people are aware that this system can stop their car faster and safer than earlier brake systems, but most are not aware of the pros and cons of these systems. The National Highway &Traffic Safety Administration, reports that recent studies show vehicles with ABS are involved in certain types of accidents more often than vehicles not equipped with ABS. The results of these studies are disappointing, but they have proven that consumer awareness of ABS operation has been inadequate. The first thing drivers must realize is that anti-lock brakes stop a vehicle in a shorter distance than regular braking systems, most of the time, but not all of the time. These systems work by pulsing the brakes on and off to avoid skidding a wheel during hard braking, but they can only pulse at a fixed rate that is ideal for most conditions but not for every possible condition. Because of this, drivers of cars with ABS must still use the same caution, they would normally use when driving. Keeping one car length space from the vehicle in front of you, for every ten miles per hour of speed you are traveling, for instance. The most important thing to remember with an ABS equipped vehicle is to just steer clear of what is ahead. The greatest advantage of these systems is that because the wheels are still spinning during a panic stop the driver can steer around an otherwise unavoidable object. Whether you are on ice at low speeds or dry tar at highway speeds, the front wheels can still steer the car as long as they are rolling. When driving cars not equipped with ABS the best way to avoid skidding out of control is to manually pump the brakes by repeatedly pressing and releasing the brake pedal. This will let the wheels roll, then skid, then roll again, just like an ABS equipped car would and still leave the car with steering control. You may not be able to stop in time to avoid an object in your path but if you are not skidding you can steer around it. Never pump the brakes of a car with ABS, as this will defeat the systems automatic attempts to pulse the brakes and result in longer stopping distances. Also remember, your car's owners manual can be an excellent source of information on braking technics.
Parts Commissions?
We would like to keep you abreast of any changes that occur in our industry that might affect you as an auto owner. Quite often we find that customers are not aware of parts commission policies at new car dealership service departments and franchise auto repair facilities. In simple terms, when you come into these places to have your car serviced, the technician who is assigned the job gets a commission in the form of a percentage for each part sold. For example, if a technician noticed that a vehicle needed shocks he will tell the service manager to advise the customer. If the customer decides to go ahead with the repair, the technician would get anywhere from three to five percent of the total parts dollar amount. Although this may sound like a great incentive plan to the technician, we do not agree that this policy is in the customers best interest. If a customer came into that shop and the brakes were worn, but not worn out, would the technician be motivated to tell the customer they need brakes because of the possibility of a parts commission? How can a technician be a fair arbitrator of a part if he stands to make a profit on the sale? Fortunately we see through the problems of the parts commission system. We do not offer an incentive program on parts commission now and we have no desire of changing that policy in the future. So, if your out of town and find yourself in need of auto service, better ask the service manager if they offer a parts commission to employees. If they hesitate at all, you'll already know the answer.
Your Patience, Please.
Very often we find that a customer will report a problem with their car that we cannot duplicate on a test drive. Considering that the average car has over 15,000 parts, it is not difficult to see how easy it is for problems, especially small ones, to crop up. In order to solve your car's problems as quickly as possible, you may notice that we will ask you to accompany a technician on a test drive, so you can show us what's wrong. Sometimes the problem will show itself during the test drive and then we will have a better idea of exactly what it is that you want corrected. Unfortunately, many times the problem will not show itself on the test drive. In these instances we will ask you to give us as much information as possible regarding what conditions are present when the problem occurs. For example, lets say you noticed that your car's engine stalled at a stop sign. We may want you to try to duplicate the stall with us on a test drive together. If we are unable to get the engine to stall, we will ask you detailed questions regarding the conditions of the stall. Be prepared to answer these questions as completely as possible. We will probably ask you questions like this: Was the car fully warmed up when the engine stalled or had you just started the car a few minutes prior? How often does the engine stall? Has the engine ever stalled at highway speeds? Have you ever experienced this problem on the car before? When was the last time the engine stalled? Has anyone else, other than us, tried to address this problem before? Were you turning the steering wheel when the car stalled? This may seem like a lot of detail concerning an engine stall, but with this information we will have a better chance of resolving the problem on the first service visit. Once you give us the answers to our questions, we will present this information to the technician who is assigned the job. If you had said that the car was hot, stalled once, never on the highway, that this was a new problem, and the steering wheel was straight, we will type a report for the technician in his terms. The technician's report would probably look something like this: "The customer reports that the vehicle exhibits an intermittent closed throttle plate stall, during hot operation, under straight ahead steering, condition is new, and the road test did not confirm." Armed with this specific information, the technician now has an idea of what conditions were present in order for the stall to recur and he also has an idea of what testing measures to proceed with. In this hypothetical case, the technician might start with a search of technical service bulletins, (TSB's), and then proceed with a visual engine compartment inspection. If no possible causes are found, he may road test the car with a scan tool. A scan tool is a special device that allows the technician to record data coming in from all the engine management sensors, (inputs), to the onboard computer system and watch the computers desired commands, (outputs). This information is referred to as the Data Stream. We will talk more about this in future issues of GQ. If the engine stalls during the road test with the scan tool, the technician will return to the shop and play back the data he recorded and look for a cause. If we are unable to make the engine stall, we will return the vehicle to you in hopes that the problem will get frequent enough for us to find. It is intermittent problems like this, that we ask for your patience and understanding.
Thanks again for your business.
Please drive safely.
Return to "Top of Page"