CONTENTS: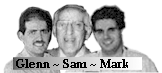 Mark & Glenn Elected Board Members of ASA
Muscular Dystrophy Fund-Raiser A Success
Summer Service Work Floods Repair Shop
Parts Voice Joins Giammalvo's Repair Arsenal
Technicians Pass ASE Exams!
Did You Know That In 10,000 Miles of Driving...
Modern Technology Saves Trucker
Value?
What you Should Know About Program Cars
In Passing

---
Our E-mail Address: samgauto@samscars.com
Our Phone Number Is 508-999-3213
Mark & Glenn Giammalvo Elected as
Board Members of the
Automotive Service Association.

During a weekend this past June, Mark & Glenn Giammalvo attended the annual Automotive Service Association Meeting, (ASA), in Sturbridge Ma. During this annual meeting, various shop owners, who are members of ASA, travel from around the country to meet, hold elections and offer special training seminars. During elections for the ASA Massachusetts-Rhode Island Chapter, Mark & Glenn Giammalvo were elected as board secretaries. They will be responsible for planning training seminars for ASA shops in Mass. & RI, writing and issuing "minutes of meetings," as well as a host of other duties. Congratulations to Mark & Glenn.
Muscular Dystrophy Fund-Raiser
A Success
Although our first annual MDA fun-raiser was fairly small, it was still a success. During the event we inspected 17 cars and collected donations totaling $165.00. Next year we are planning more advertising and live radio broadcasting during the event to attract more people to support this great cause! During the event, we entered the names of everyone that attended in a contest to win tickets to an August Paw Sox game and round trip tickets to Martha's Vineyard aboard the M.V. Schamonchi. Paw Sox ticket winners were: Kathleen Giesta, Bea Faunce, Georgette Theodore and Victoria Estacio. Alicia Lopes won the Martha's Vineyard tickets. A special thanks to everyone that attended!
Summer Service Work
Floods Repair Shop
If you've called in for an appointment recently, you may have been surprised at the service date you were given. We are trying to service all our customers as soon as possible. If your car just needs regular preventive maintenance, we will book the next appointment available in the schedule. If you have an urgent problem or your car is broken down, this will be treated as a priority and we will try to look at the car the same day, if we can, so we can get you rolling again. We apologize for any inconvenience this has caused and ask for your patience with us through this busy season.
Parts Voice
Joins Giammalvo's Repair Arsenal
We are proud to announce another service that we have available to help us acquire parts for your car more quickly. We are now a member of the Parts Voice Database. This is a very large computerized database which allows us to search parts warehouses and car dealership parts departments nationwide. The search is all done over the telephone. This is a source we can pursue when the part you need for your car is unavailable the same day. Parts Voice will search out the nearest warehouse or dealer that currently has that exact part in his stockroom. Here's how it works. Let's say you're car is in our shop for repairs and we find that the part you need is not available locally, you may want to pick up the car and bring it back when the part is in. If you wish, we can let Parts Voice search for the nearest possible location for that part. If the place that stocks the part is close enough, we can drive there and pick up the part ourselves. If it is too far away to drive, you have the option of Next Day Air or Second Day Air to get the part to us. This may be a good choice, if the car is inoperative without the part, and you need the car repaired immediately. Here's an example of a Ford part we looked up recently. The part number was: F1AZ54218A42A. When calling Parts Voice, we enter our special access code with the numbers on the phone pad. At this point Parts Voice states: "For General Motors Press 1, for Ford press 2, for Chrysler press 3, for a listing of European makes, press 4." Now we press 2 for the Ford Database. Parts Voice responds with: "Please enter the Ford part number." We enter the part number with the numbers on the phone's keypad. In this case, because Ford part numbers also have letters, we look for that letter on the phone keypad and press its appropriate number. For this part number, on the phone pad we entered 3129542182422. The letter Z is not on the phone pad so it is considered to be the number 9 because W,X and Y are on the number 9 button. Parts voice responds with: "Several parts are listed for this entry, here is the first:Delta One Alpha Zulu Five Four Two One Eight Alpha Four Two Alpha. If this is the correct part press 1, to listen to the next part, press 2." Notice that Parts Voice is reading back the part number in the phonetic alphabet so it will be easier to understand the letters in the part. In this case Parts Voice is telling us that the current part it is about to search for is D1AZ54218A42A. This is not the correct part so we press 2 to listen to the next part. Parts Voice responds with: "Echo One Alpha Zulu Five Four Two One Eight Alpha Four Two Alpha." This is still not the correct part so we push 2 on the keypad to hear the next possibility. Parts Voice responds with: "Foxtrot One Alpha Zulu Five Four Two One Eight Alpha Four Two Alpha." Since this matches the part we are looking for, (F1AZ54218A42A), we push 1. Parts Voice researches everyone that stocks that part and responds with: "Nashua Ford, Nashua New Hampshire. Fairview Ford, San Bernardino California. You have listened to all stocking dealers nationwide. To hear the dealership phone numbers press 2." At this point we will listen to the respective phone number list and call the closest dealer, verify that they have the part and give them shipping instructions. As you can see, this is a fantastic system that allows us to literally hunt down the closest available part so we can complete work on your car as soon as possible. Feel free to ask us if you would like us to use this option or if you would like to see an actual demonstration of a parts search.
Technicians Pass ASE Exams!
Recently our technicians have been participating in special advanced study courses and live training in preparation for testing by The National Institute of Automotive Service Excellence, (NIASE). We are pleased to announce that Glenn, Mark, Larry, Nelson and Mike, have again passed the difficult ASE exams. All our technicians our pursuing their education with the NIASE. Glenn has already obtained his masters degree with the institute. We will continue to keep you posted on their progress.
Did You Know
That In 10,000 Miles of Driving...
The engine turns at least 25 million revolutions. Each spark plug fires at least 12.5 million times. Each spark plug wire conducts over 3 billion volts. The ignition coil fires at least 50, possibly 100 million times, (depending on the number of cylinders). The air filter cleans almost 2 billion cubic feet of air. The fuel filter cleans 363 gallons of fuel (assuming 27.5 miles per gallon).
Modern Technology Saves Trucker
Truck driver James Foster suffers from high blood pressure and diabetes. He is not the kind of person who should be eating at fast food places, but he decided to stop at a restaurant en route from Pennsylvania to New York. When he tried to climb down from the cab he collapsed on the ground. Foster was able to pull himself back up into the truck but went unconscious before he could call the dispatcher for help. When his shipment didn't arrive as scheduled, the consignee called the trucking company for an explanation. There was no explanation for the failed delivery. The company, Transcontinental Refrigerated Lines, set out to determine what happened to Foster. TRL used the truck's onboard Global Positioning System (GPS) to determine the exact location of the truck and another truck in the area was dispatched to check on Foster. He was found passed out in the back of the truck and an emergency rescue helicopter was then used to carry Foster to a hospital, saving his life. Foster had always considered the GPS on his truck as "Big Brother" technology. After it saved his life, he sang a different tune: "I was so glad to have the locator on my truck...dispatch located me right away. I no longer think of mobile communication as "Big Brother." I think of it as a life saver.
Value?
The catch word now-a-days seems to be "value." Everybody wants to know if some thing or some service is a good value. Advertisers promise the value of products or services. They even use value in the name of products and services, "value meal." This must be a good value. It says that right in the name. We all want a good value in everything we purchase, but when it comes to service, can we recognize good value when we see it? Lets look at some common services we all use, and see if we can find value in them. A gardener may do some yard work for you at a set rate per hour. For that rate he will deliver his own equipment, his skill, and his labor, to work for your benefit. A carpenter may do some work for you for a rate slightly higher, but he may be bringing more of his own equipment and skills to work for you. Telephone company gets $80.00 an hour for their first hours service charge, more if doing an installation or work for a business customer. Sounds like a lot of money for just a normal amount of equipment and skills. Most local DJ's get about $100.00 an hour for their services. Considering the skills and equipment he will be bringing, the cost does seem high. However the cost can be spread out to others enjoying the benefits of his service, and will most likely be an enjoyable event. Some local musicians get about $200.00 an hour for their service. While they may bring the same skills and equipment as the DJ brought, one could argue that they also bring great talent. Some lawyers charge about $200.00 an hour for their services. They may not have a lot of equipment, but they bring their education and great information resources to work for their clients. The cost seems high, but many clients have a specific need for their service that out weighs the cost of the service. (And at this rate you are referred to as a client, not a customer). Then there are the services of plumbers, electricians, or, any one of countless medical fields to be pondered. But what about automotive service? What does your mechanic bring to you when he delivers a helping of automotive service? Does he not deliver labor and skills? And what about equipment? The tool box that is too tall to see over. These tool boxes empty cost about $8,000. The tools in his box are usually valued at about $20,000-$30,000. There are tire service machines and brake service equipment. Most automotive repair shops have more than 200,000 invested in equipment. Then there are the alignment machines, the ignition analyzers, the exhaust emission analyzers, the hand held testers and oscilloscopes, it kind of sounds like an equipment warehouse. Speaking of warehouse, your mechanic brings a place to hold your vehicle while it is being serviced, and also to remove any unsightly pollutants it may leave behind while it is there. He has great information resources either in paper book form, or the more common computer disk systems. These CD ROM systems hold more than 15 million pages of information to service each different model. That's right, 15 million pages. Automobile manufacturers like to change their vehicles every year so no mater how much information the technician tries to gather, it will soon be out dated and not enough. Because automobiles are always changing, the technician also brings continued education as a service for you. You would not want him to try to diagnose your distributor-less ignition system problems with distributor ignition theory, would you? And what about constant training on new equipment? When the shop buys a new alignment machine, or new computer software, your mechanic gives up his time off to train on the new equipment, which will lead to still improved service skills for your benefit. And at what cost does his place of employment bring these services to you? $45.00 to $50.00 an hour? Is this a typographical error, or is this just Great service value?
What you Should Know About
Program Cars
In the 1980's, automakers started a new PROGRAM to induce all the auto rental companies to purchase more new vehicles. The automakers agreed to buy back their RENTAL vehicles when they were retired from the rental-fleets thus making it easier for the rental companies like HERTZ and AVIS to dispose of them and buy more new cars. The automakers wound up with thousands of DAILY RENTAL VEHICLES to dispose of. So guess -what?---They went to their new-car dealers and said: we have a n w PROGRAM for you---We bought all these DAILY RENTAL CARS back from the rental companies and you can buy them from us. The automakers and their new car dealers, of course, were well aware that today's smart car buyers would never buy these cars because they know that rental cars are driven by hundreds of people and do not get the regular preventive maintenance and care that a one owner car does.---So to get around that problem they decided to call them PROGRAM-CARS. Nearly every new-car dealer has these PROGRAM-CARS for sale on their lots and when asked by a customer what a PROGRAM-CAR is, they should tell you that they were former DAILY-RENTALS. However unscrupulous dealers may lead you to believe that these cars were "factory official cars" or "demo vehicles." There are Federal and State Laws to protect you, the consumer, that say that " a dealer must tell you if a car for sale was a FORMER DAILY-RENTAL." An Ohio NEW-CAR DEALER has been charged with deceiving customers by selling DAILY-RENTAL CARS and telling customers they were "FACTORY-OFFICIAL" or "DEMO" vehicles. The Ohio Attorney General Lee Fisher said "factory official cars"are commonly understood to be cars that have been driven by a factory official or employee; a "demo" means a new car used by the dealership to show prospects. Fisher has asked the court to require the new-car dealer to pay civil penalties of $25,000 for each alleged violation of the state's consumer protection laws. He also wants restitution for misleading customers and an end to misrepresentative advertisements and sales pitches. To sum it all up ---If a car was formerly used for a daily rental you should be made aware of it. A rental car does not get the tender loving care of a privately owned car and that's why the consumer laws re very clear about this and are there to protect you. HINT: Don't be fooled by the word "PROGRAM" and wind up with a " RENTAL" Instead stop in and see us for a low mileage, one owner car that was cared for by it's original owner.
In Passing
We were saddened by the loss of our long time customer, Ray LaPalme. Ray and his family are long time customers of Giammalvo's. He will be missed.
Thank you for your business.
Please drive safely.
Return to "Top of Page"