CONTENTS: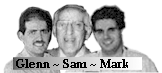 Technicians Meet Automotive Instructor Bob O'Connor.
Budgeting For Auto Repairs?
Used Oil...Did You Know?
Big Red Box.
Technicians Meet With General Motors Training Specialist-Robbi Glass.
Mark Giammalvo Receives Masters Degree From ASE!
Customer Purchases Jeep As Birthday Gift.
How Hard Could It Be, To Order A Hubcap?
Is Your Windshield Hard To Defog?
Attention 1991 & 1992 Chrysler Owners...Recall
How fast is your car built?
In Passing

---
Our E-mail Address: samgauto@samscars.com
Our Phone Number Is 508-999-3213
Technicians Meet Automotive
Instructor Bob O'Connor.
This past November, our technicians met with a legend in the automotive industry. Bob O'Connor is the most requested instructor nationwide, by technicians associated with the Automotive Service Association. Bob flew from his home state of Seattle, Washington to Rhode Island to teach technicians his Technician Time Management 2 Day Seminar. Bob's seminar reinforces the technician's abilities in time management to help reduce invoiced labor charges to the customer, clear and concise repair order writing, and techniques for helping customers describe vehicle complaints. In addition, Glenn and Mark attended his Dealership Control Operations Seminar. In this seminar Bob teaches shop managers how to offer more value added services without increasing the cost to customers. Technicians and shop owners from as far as Florida and California attended the seminar.
Budgeting For Auto Repairs?
We budget for gas, electric, mortgage, phone bills, etc. but do most people budget for auto repairs? No. A separate budget for auto repairs and maintenance is something no one wants to think about but everyone should consider. No one wants to spend money on their car when a repair is needed, be it new tires or a new transmission, but a simple budget can make the experience much easier to cope with. Most often, when people come in for repairs on their car, they're not exactly jumping up and down with joy to see us. This is particularly true when the repair was unexpected. If we were selling golf clubs or clothing it would be a happier experience. But alas, we digress. Back to the subject at hand. Fifteen dollars a month should be sufficient to cover most repair bills. A newer late model car in good condition can go a long way before needing any major repairs, especially if it is well maintained, that brings us to another possible budget. If you don't want to pay for regular maintenance out of pocket, a budget of twenty dollars per month should take care of it. This maintenance would cover oil changes, tire rotations, tune-ups, alignments, transmission and coolant flushes, all services required to maintain dependability. With a simple budget plan such as this, motorists can be spared the anxiety of worrying over repair costs, and over a longer period of time, any unspent budget savings can be put toward the purchase of the next car.
Used Oil...Did You Know?
That the U.S. generates a total of 1.3 billion gallons of waste oil each year, of which 800 million gallons are recycled and 50 million gallons are disposed of improperly? That waste oil often contains lead, arsenic, cadmium, chromium, or organic constituents that cause it to fail a Toxicity Characteristic Leaching Procedure Test (TCLP) for the determination of hazardous waste? That the Coast Guard estimates that sewage treatment plants discharge twice as much oil into coastal waters as do tanker accidents - 15 million gallons per year versus 7.5 million gallons from accidents? That a gallon of used oil can contaminate a million gallons of fresh water - a year's supply of water for 50 people? That 1 gallon of used oil used as fuel contains about 140,000 Btu of energy? That re-refining used oil takes only one-third the energy of refining crude oil to lubricating quality?
Big Red Box.
If you've been back in the service area lately, you may have noticed a big red square box suspended from the rear ceiling of the garage. This is our new waste oil furnace. A waste oil furnace is designed to burn waste oil drained from car engines to create heat. The older waste oil furnace that we had was not keeping us cozy enough on those bitter winter afternoons especially after the winter we had last year. The new furnace is larger and more efficient than the old one. In addition, you'll find the new furnace much quieter than the old model. This helps us reduce the noise levels for both customers and employees. Burning our waste oil on sight allows us to remove our company from the liability of trucking waste oil across the state to a collection center. This is very important since MA. laws require the generator of waste oil (us) to be responsible for spills and cleanup regardless of whose fault it was. In other words, if we did not have a waste oil furnace we would have to have the waste oil removed by truck. If the truck leaked in route to the collection center, we would be responsible for all environmental clean-up costs regardless of whose fault the leak was. In essence, everyone is removed from any liability except us. The other benefits are, of course, a great supply of heat and, due to the fact that we don't have the oil removed, we do not have to charge for waste oil removal fees on customers repair orders.
Technicians Meet With General Motors
Training Specialist-Robbi Glass.
This past December our entire service staff met with local GM trainer-Robbi Glass. Mr. Glass teaches automotive technicians advanced training courses. This month's course was focused on operation of our Laboratory Oscilloscope. The Lab Scope is a tool we use to capture what is known as "wave forms" of electrical circuits. The scope will draw a picture of the electrical currents voltage and time-frame on a screen. This tool is helpful in finding intermittent driveability problems we face so often on today's complex automobiles.
Mark Giammalvo Receives
Masters Degree From ASE!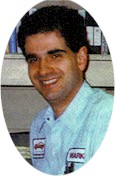 We are proud to announce that on December 31, 1996, the National Institute of Automotive Service Excellence, (ASE), notified us that, Mark Giammalvo, has now passed the experience and testing requirements for the status of Master Automotive Technician. ASE tests automotive technicians nationwide. Technicians that pass one or more tests are considered to be an ASE Certified Technician, but only in the area in which they have passed. They must also have at least 2 full years of hands-on automotive practice. The requirement for ASE's Automotive Masters Degree is to have passed their eight testing areas. The areas of testing are: Engine Repair, Engine Performance and Driveability, Automatic Transmission, Manual Transmission, Heating Ventilation and Air Conditioning, Steering and Suspension, Electrical and Wiring, Brakes and Traction Control. In addition, the technician must prove to ASE that they have been practicing in the field for a specified time. Mark is now in his 14th year of automotive service. Since each test is 4 « hours long this means 36 hours of testing. Most technicians will take 2 tests per day until they have completed the test group. Due to the intensive changes in the automotive industry every year, he will also be taking recertification tests annually in order to maintain his status as Master. Mark has been taking many classes, mostly away from home, in order to accomplish this goal. Hats off to Mark for a job well done! As a side note; we believe we may be one of the only automotive repair facilities in the local area to enjoy the status of having two Master Technicians employed under the same roof, the other Master being Glenn Giammalvo. At Giammalvo's we believe that knowledge is power. We also believe in encouraging our staff to further their education. As a result, our other technicians are also studying hard and working toward educational goals.
Customer Purchases Jeep
As Birthday Gift.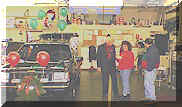 This December, Nabih Moujabber, owner of The Lebanese Kitchen, purchased a 93 Jeep Grand Cherokee from us as a gift for his wife's birthday. Nabih had the Jeep set up with balloons in our garage and even had a birthday cake in the back with candles lit, as his wife, Nouhad, came into the shop. Sam is shown here handing her the keys. Needless to say, she was pleasantly surprised.
How Hard Could It Be,
To Order A Hubcap?
Recently, one of our customers called and asked us to order two hubcaps for their 1989 Volvo 240. The customer decided to opt for used hubcaps since the new ones were about $73.00 each. When asking our used hub cap vendor to send us two used hub caps for this model, they wanted to know if the Volvo corporate logo on the hubcap was colored black or silver. Since we were unaware of this at the time, we hung up with the vendor and called the customer back. After asking the customer what the color of the logo was, (in this case silver), we called our hub cap vendor again to attempt to order the hub caps. Unfortunately, our vendor had only one used hubcap for this car at the time and fortunately, it had a silver logo. We told the vendor to ship the one hubcap. Now we called the customer back again to explain our dilemma. The customer decided that they would take the one used hub cap and also wanted us to order one new one from Volvo. We called our Volvo parts supplier and ordered the new hubcap. When the new hubcap arrived, we noticed that it had the black logo instead of the silver logo. We then called our Volvo supplier to ask them for a hubcap with the silver logo, this was their reply: "Volvo no longer manufactures hubcaps with silver logos, in a case where the customers existing hubcaps bear black logos, we have a special stick-on silver logo they can purchase for $13.00." We kept the new hubcap and ordered the stick-on silver logo. This is just a small example of how constant changes in vehicle design, transform what would normally be a five minute problem, into a two hour affair.
Is Your Windshield Hard To Defog?
A common complaint from customers this time of year is defogging the windshield. The most common cause of a windshield being hard to defog is when the recirculate/fresh air button is placed in the recirculate position. Many cars are now equipped with this feature. On some cars it is a button. On other cars it is a slide lever. It is critical, that this button, or lever, is placed in the fresh air position when you are trying to defog your windshield. This is especially important when it is raining and on days of high humidity. In addition, it is also very helpful to turn on the air conditioning. This also helps remove moisture from the air and will help expedite the defogging process. Until recently, most owners manuals omitted this critical information. Technically, defogging means clearing moisture on the inside of the windshield. Defrosting is the term used to explain melting away the frost on the outside of the windshield. Naturally, it is best to scrape away the ice or frost with an ice scraper first. When defrosting, you can use the same procedures as described above. In addition, make sure the car is warmed up and the heat setting is set to maximum heat.
Attention Chrysler Owners.
Chrysler has announced a recall on the following vehicles:
Safety Recall #708-Steering Wheel
Anti-Separation Plate.
1991-1992 Dodge Caravan, Grand
Caravan, Plymouth Voyager,
Grand Voyager and Chrysler
Town & Country Minivans
equipped with a driver's side air
bag.
1991-1992 Dodge Shadow &
Plymouth Sundance equipped with
a 4 cylinder engine and a manual
transmission.
The recall states:
The steering wheel armature on the above listed vehicles, may crack due to fatigue and separate from the center hub attachment to the steering column. All vehicles must be inspected for armature cracks and all cracked steering wheels must be replaced. An anti-separation plate must be installed on all steering wheels without cracks to prevent separation if future armature cracking occurs. We have received a great deal of phone calls regarding this recall. If Chrysler believes that your vehicle is involved, they will send you notification via mail. We do not have any more information at our disposal to indicate if your vehicle will or will not be involved in the recall. Thanks for your patience and understanding in this matter.
How fast is your car built?
Of all the automakers assembling vehicles in the U.S., Nissan was the most productive last year, needing only 27 hours of labor to produce a vehicle at its Smyrna, TN., assembly plant. That compares with 29 hours for Toyota, 31 hours for Honda, 38 hours for Ford, 43 hours for Chrysler and 46 hours for GM, according to the annual productivity study by Harbour & Associates, an automotive research and manufacturing consulting firm in Troy, MI. The annual survey has become the benchmark for industry success-or lack of it. Since it took Nissan the fewest hours to build cars, Nissan naturally had the lowest labor cost per vehicle at $1,176.
In Passing
We were saddened by the loss of both long time customers, Ken Medeiros and Helen Fonseca. The Medeiros and Fonseca families are long time customers of Giammalvo's going back to the early 1960's when we first opened. Our heartfelt prayers go out to both families.
Thank you for your business.
Please drive safely.
Return to "Top of Page"