CONTENTS: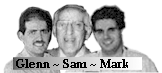 Giammalvo's Gains Internet Access!
How Difficult Can It Be To Estimate A Tune-Up?
Dreams Do Come True!
Mike Dacosta Weds Heather Gomes.
Thank You For The Thank You!
The Doctor is In
Attention: 1992-1996 Toyota Camry Owners With Automatic Transmissions
In Passing

---
Our E-mail Address: samgauto@samscars.com
Our Phone Number Is 508-999-3213
Giammalvo's Gains Internet
Access!
Yes, that's right, we are finally on the Internet. Although we are still in the process of developing our web page, we do have an E-mail address established. Our E-mail address is: samgauto@samscars.com We are already reaping the knowledge benefits of Internet access. Our technicians have recently joined The International Automotive Technician's Network, (IATN) on the Internet. IATN is a group of more than 7,000 automotive technicians worldwide that E-mail each other daily regarding very difficult automotive diagnostic problems that they are currently working on at their shop and current trends in automotive repair. We are averaging 22 E-Mails per day that we answer for the IATN. Many times we have encountered the exact problem another technician is experiencing and we E-mail them back with the proper repair procedure. Our customers can also benefit from this resource when we have a perplexing problem and there is no diagnostic information available from the service manual and no service bulletins for similar symptoms. We are continuing to use every possible resource to obtain the latest diagnostic information available for your automobile so we can repair it as quickly and as accurately as possible. Please feel free to E-mail us with any questions or comments about your car, our dealership, newsletter, or whatever is on your mind. We check our E-mails daily, each morning, Mon.-Sat. We reply immediately to all E-mail. We will also let you know as soon as our web page is established and online. See you on the net.
How Difficult Can It Be To
Estimate A Tune-Up?
From time to time we will get requests over the phone for a tune-up estimate. Or as we hear, a "ballpark figure." If you have ever called us looking for a price on a tune-up, two things probably happened. First, you were most likely asked why you want a tune-up and secondly, we probably told you we would call you back after we research your car's history and try to determine what parts your car will require. What exactly is a tune-up? Ask six different technicians and you'll probably get six different answers. And the worst part is that none of them are wrong. Automotive service is still an art, a practice; it is not a science. The automotive professional must exercise his or her own judgement in determining what constitutes the completeness of any procedure. Good or bad. Right or wrong. There is no nationally accepted industry standard for what constitutes a specific repair operation like a tune-up. As a consumer, you need to understand what you will be getting for your money, but also whether that service will address the problem you are trying to solve. No tune-up, no matter how complete, can compensate for a mechanical problem such as a burnt valve or electrical sensor malfunction. However, every day across America someone will request a tune-up when what they really need is a diagnosis. People come into service departments every day and ask to have a part installed, lets say a battery, to cure the no-start problem they experienced that morning even though it won't solve their problem. The car may actually have a trunk light staying on all night. If no one performs any diagnostic testing to find that the light is staying on, and just throws in a battery, sure enough, that car with the new battery, will also not start again tomorrow because no one has diagnosed the cause, as the trunk light, will again, have drained the battery. If you call in asking for a tune-up for preventive maintenance because of the owners manual recommendation, or our post card reminder, that's smart, and that's preventive maintenance. If you call in asking for a tune-up because your car is not running well, we will ask you to let us drive and inspect the car before going any further. If we just went ahead and did the tune-up, chances are the car will leave with the same problem it came in with. The car may even be due for a tune-up, but the "tune up parts" are not causing the problem you are having. This is a specific case where it is crucial to diagnose the cause of the problem. Our definition of a tune-up is, checking the cars service records, (if we have been the primary service facility), and determining if the vehicle has had any "tune up parts" installed in the past. For example; if we found that your air filter was replaced recently, we would not include the air filter in the tune-up estimate because you do not need another one at this time. This is why we don't know exactly what the car needs until we check our records or ask you detailed information about what you have replaced so you won't have to pay for the installation of parts you don't need. If the car in question has never had a tune up or not had one in about 27,000 miles, we will most likely be replacing the spark plugs, pcv valve, air filter, fuel filter, inspecting the ignition wires, and inspecting the distributor cap and ignition rotor, (if the car has one, some cars do not) We will also be cleaning the battery terminals and adjusting ignition timing and idle speeds (if adjustable, some cars are not). In addition, there is some time involved in pricing a tune-up. Let's say we think we have a good idea of what parts your vehicle will need based on the information we have obtained. Now we will go to the parts room and look up your car's make, model and engine in the spark plug manufactures catalog to find the part number and see if we stock it. Next we will go to the filter catalog to look up your car again to check the part numbers of the air filter, fuel filter, and pcv valve. At this time we can go to the Alldata computer and enter your vehicles make model and engine in order to look up the average time it takes to replace these items on your car. This can reveal some interesting facts. For example, a four-cylinder Honda may only require 1.1 hours of labor to replace the spark plugs. Look up an Infinity eight cylinder and you will find that, because of where the spark plugs are located, it will require 4.1 hours of labor to replace. Wow! How's that for modern technology? We'd bet some of you would like to have words with the designer who came up with the bright idea of selecting the location of those spark plugs! Later, when your car is in the shop, we can check some of the ignition items. If the inspection of your car reveals that the ignition wires require replacing we will look up your car's application in that catalog as well. Ditto for the distributor cap and ignition rotor. Hope this helps you understand what we are up against when working with the complexity of today's modern automobiles.
Dreams Do Come True!
This February, Debbie and Brian Gonsalves of North Dartmouth, purchased a 1996 Pontiac Grand Prix from us. Debbie had always dreamed of owning a red Grand Prix. Well, her dream became a reality. And, what day do you suppose she chose to take delivery of her new RED car? Why, Valentine's day, of course! Sam is shown handing Debbie the keys. Congratulations to Debbie and Brian!
Mike Dacosta Weds Heather Gomes.
We are proud to announce the marriage of our employee Mike Dacosta to Heather Gomes. Mike is a full time automotive technician here at Giammalvo's. Mike performs vehicle maintenance service and advanced driveability diagnostic work on vehicles with computerized controls. Mike is a graduate of New Bedford Vocational High School and The New England Institute of Technology. He is also a certified automotive technician with The National Institute of Automotive Service Excellence (ASE). Mike is also currently pursuing his masters certification through continuing education programs with ASE. Heather is a graduate of Apponequet High School and has her Bachelor's Degree from Bridgewater State College in Psychology. Heather is a teacher for Till Inc. in Dedham Ma. Mike and Heather were wed on May 17 of this year at St. Bernard Church in Assonet. Their reception followed at Whites of Westport. The couple spent their honeymoon in Acapulco, Mexico. Congratulations and best wishes to them both!
Thank You For The
Thank You!
We take the time here to thank all the customers who have been sending us all those great complimentary letters lately. We know that there are many things we do correctly every day that are noticed, but sometimes, those things have such a profound effect on people it compels them to write and tell us. The following is an excerpt of a recent letter from our customer Brenda Sousa:
"I had to take the time to write a thank you note to everyone there. You're thoughtfulness in sending me a reminder about my car's Mass. State Inspection being due was so appreciated. Your yellow postcard arrived on Feb. 25 just in time for me to go to the local inspection station (for convenience sake). I had completely forgotten that it was due and March would have arrived without the new inspection sticker if it were not for your wonderful service. You can be certain that when my van needs servicing, it will be taken to Giammalvo's. And while I'm at it- I did not forget- thank you for your kind birthday wishes last August and your warm Christmas letter, Sam. Thank you all for going that extra, extra mile. Best wishes to you all."
Sincerely, Brenda De Sousa
Our heartfelt thanks go out to all of you wonderful customers who send us these great letters. You really know how to make our day!
Thanks again.
The Doctor is In
Have you heard the news? There is a new kind of doctor in town, a primary care physician that is half healer and half diagnostician. An eccentric young man that is well mannered and well educated. He is constantly continuing his education by spending more than 100 hours each year in night training classes in order to keep up with the ever changing technology in his field. At home each work night he sits mesmerized reading textbooks and computer screens never too content to leave a question unanswered in his own mind. He keeps abreast of many environmental concerns, and stays up to date on the latest government regulations at both the federal and local level. At work others refer to him as a mad scientist lost on the information super highway.
During the day thoughts race through his mind at light speed, while he fears his hands can only operate accurately at what appears to be slow motion. He invests in expensive new tools monthly so he can perform the latest new procedures. The hospital that he works in invests thousands of dollars monthly in the latest equipment to help him work more thoroughly and efficiently. He constantly strives to do what he cannot do, and works to perfect that which he does regularly. He accomplishes many things that
those who went before him thought to be impossible. He handles emergencies as well as regular checkups on a daily basis. He never compromises the safety of his patient while he is in surgery. He offers free consultations and guarantees his operations. So you think there must be a catch, well I'm afraid your right. Unfortunately his charges are never covered by health insurance providers because he is a doctor of automobiles.
Attention:
1992-1996 Toyota Camry Owners With
Automatic Transmissions
Recently we have seen a few cases of customers reporting that their ignition key can not be turned all the way to off, and as a result, the key will not come out of the ignition lock. What we have found in the above cases is, that, the customer will have a large coffee mug in the beverage tray. When the automatic shift lever is placed in park, it touches the coffee mug and the mug can't move foreword because it is so large that it is already touching the dash. This prevents the automatic transmission shift lever from going all the way into park. If the lever is kept just slightly out of park like this the ignition key can not be turned off. Also, we like to remind customers of an item that is usually in their owners manual. If you are a regular user of the beverage tray in your car, you should remember to use soft cups only. This will help limit injuries, especially to the knee area, if you are involved in an accident. So, remember, no large or hard cups in the beverage tray.
In Passing
We are saddened by the passing of Irene price. She was employed by the First National Bank of New Bedford as a bookkeeper, and later by North American Business Forms Inc., as executive secretary for 16 years until her retirement. The Price family is one of our original customers since our opening in the early 60's. Irene's husband, Oman, continues to purchase and service all his cars with us. He has purchased three cars from us already. A few years ago Oman was pictured in The Dartmouth Chronicle with Sam handing him the keys to his 3rd car purchased from us, a Buick Lesabre. The car prior to that was a 79 Chevrolet that Oman bought from us with 2,000 miles and kept it for 12 years until it had almost 250,000 miles. Oman usually waits while his car is being serviced. Many times he can be overheard having conversations with other customers in our waiting room. Often customers will tell us how pleasant Oman is to talk to. Oman is a wealth of knowledge and a very kind and thoughtful person. Anyone who has had the pleasure to meet him will agree. Our deepest sympathy goes out to Oman and the Price family. We are saddened by the loss of David Staron. Dave was born in New Bedford and attended New Bedford Tech. He was a World War II Navy veteran and worked as an electrician in New Bedford and Cape Cod. He was the former owner of Staron Electric Co. And Triple-A-Built-In Vac. Dave was the electrician responsible for wiring our present building when we had it built in 1971. He will be missed. We are also saddened by the loss of Alice Faraglia. Alice was the wife of Gregory Faraglia.She was formerly employed by the Aerovox Corp. for 30 years and then worked at Sacred Heart Nursing Home for 13 years. The Faraglia's have been customers at Giammalvo's for many years. She will be missed.
Return to "Top of Page"