Transportation Department Announces Agreement On Air Bags

The U.S. Department of Transportation has announced that an agreement has been reached to issue final regulations for "smart" air bags by June 1999. Additionally, an administration source has said that the final regulation regarding air bag deactivation will be issued by the end of November. The National Highway Traffic Safety Administration (NHTSA) has said that air bags have saved the lives of over 1,750 people. However, they contend that 19 adults and 31 children have been killed because of the deployment of air bags, most of whom were not wearing safety belts or were riding in child safety seats that were not properly installed.
Several suggestions have been promoted as a way of preventing future injury to children and adults including air bag deactivation, manual cutoff switches, and smart air bags. Smart air bags are those capable of either shutting off in appropriate circumstances or controlling their deployment so as to protect against injuring a wide range of occupants. Under the proposed rule for deactivation, dealers and repair facilities would be permitted to deactivate air bags upon the written authorization of the customer and would install labels indicating that the air bags had been disabled. The authorization would contain a waiver of claims against the dealer or repair facility.
The Automotive Service Association (ASA), of which we are a member, has opposed air bag deactivation, citing statistics that demonstrate that air bags, when used properly with safety belts, significantly reduce the chances of death or serious injury to drivers and passengers in automobile collisions. ASA has also said that if the rules become finalized, it would advise its members to not perform air bag deactivation under any circumstances. NHTSA is also working on regulations for the installation of on-off switches that would allow the driver to activate and deactivate the air bag with a switch installed by a dealer or automotive repair technician.
ASA Washington Representative Bob Redding said, "Air bags have saved the lives of over 1,500 people. We do not support air bag deactivation because it puts both passengers and drivers at risk and it puts automobile repair facilities at the risk of criminal and civil litigation. We look forward to reviewing the finalized rule, but do not believe that any written waiver could completely absolve our members from possible liability in cases of accidental injury or death."

---
Noisy Cassette Tape On Turns?

Recently, we had a customer purchase a 1995 Mercury Grand Marquis from us. After owning the car for a few weeks the owner contacted us about a noise they heard in the car when making turns.
When the customer dropped by, Mark was assigned to the road test with the customer. At the first turn on the road test sure enough, there was the noise. It was one quick "click" sound as the car went through the turn. Strangely enough, Mark felt as though the noise was coming from the driver's door. At the next turn came another click. This time, something near the door moved and caught Mark's eye. As he glanced down while making the next turn, he noticed an audio cassette tape that was standing up in the drivers door storage box, moving. Each time the car turned, the tape would swing to the opposite side and hit the door, causing the sound.
Fortunately, the tape was the cause! Unfortunately, not all noises are this easy to diagnose. But when they're that easy, it sure helps the day go by! Keep an eye on those tapes.

---
Hey! My Car Won't Start!

Occasionally we have customers call us from their car phone telling us that their car will not start. After questioning them we find out that what they really mean is that the ignition key won't turn. There's a big difference in that the problem is diagnosed differently.
If the key turns and the car won't start, there is really not much we can do over the phone other than call a tow service for you. However, if the problem seems like the key will not turn on, we can often assist you through this problem. We see this often on cars today. Most of today's cars have an internal steering wheel lock built into the steering column. Sometimes without intention, you will park the car with the steering wheel turned slightly off center. Or, you may move the steering wheel a little while getting out of the car. If this happens the built in steering wheel lock will engage. If the steering wheel was turned enough, it can actually cause the lock to bind or what we say: "become loaded." When this happens, you will come back to the car and find that the key won't turn. Just wiggle the steering wheel with one hand while you are trying to turn the ignition key with the other hand. This will free up the internal lock mechanism and the key will then turn normally. This tip can save a costly tow bill.
Just remember, before you say: "my car won't start"...let us know if the key turns on....it will make life a lot easier for everyone.
---
Did You Know?

Did you know that we also service cars that we did not originally sell? Because we service so many of the cars that we sell, some people presume that if you did not purchase your car here you cannot have it serviced here. This could not be further from the truth. We would gladly service any car regardless where it was purchased. Just so you know.

---
What To Do In Case Of An Accident.
Most drivers make costly, long-term decision errors immediately following an accident as fear gives way to anger and frustration. Questions race through your head faster than the mind can register them. Who was at fault? Will my car ever be right again? What are my rights and responsibilities? A calm and informed reaction to an accident will reduce your chances for additional grief and expense.
Move your vehicle to a safe place, then stop and identify yourself to the other driver. (Some state or local statutes may require the vehicle be left as is.) If it can't be moved, turn on the hazard lights. Seek medical help if you or other parties require it, and notify the police. Tell them who you are, where you are, and about any obvious or claimed injuries.
Exchange information with the other driver(s) including driver's license numbers. Get the driver's name, address, telephone numbers and name of insurance company. Also, list any passengers and witnesses. Get names and badge numbers of any police officers who arrive at the scene. If there are injuries or extensive damage, the police should file a report. Ask to get a copy.
Avoid any extensive discussions at the scene about who is responsible for damage. If the other person admits responsibility, offers a money settlement and you accept, any future claim against the driver may be compromised. You or the other party may later find damage and bodily injury not apparent at first.
Write a complete description of the accident as soon as possible. Include weather conditions, estimated speeds, and as much precise information as you can observe.
Take photographs if a camera is available.
Contact us by phone and we will try to determine, from your description of damage, where to have the car towed.
Notify your insurance company of the accident as soon as possible.


---
Meet Kevin Cabral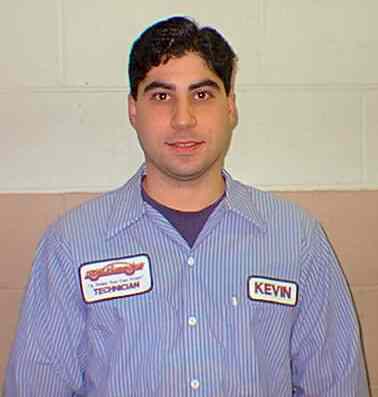 To help reduce the backlog of service, we have decided to add another service technician to our staff. We would like to introduce Kevin Cabral. Kevin brings eight years of automotive service experience to our service team. He is currently certified by the National Institute of Automotive Service Excellence, (ASE), in three areas: Brakes, Suspension & Steering, and Electrical. Kevin is also currently pursuing his masters certification through continuing education programs with ASE. He is also a 1992 graduate of The New England Institute of Technology. A newlywed since October '97, Kevin and his wife Ana live in North Dartmouth. When not at work Kevin is an avid sports enthusiast and enjoys basketball the most, along with skiing and tennis. We invite you to meet Kevin the next time you are in.
---
Total Amount Of Repair Facilities Shrinking

According to a recent report from Lang Marketing Resources Inc. The number of service stations and garages in the U.S. has decreased by 72,000 between 1980 and 1996. During the same period, the total number of service bays in these facilities has dropped from 660,000 to 457,000. Company president James A. Lang said that "the second oil crisis and subsequent growth of gas-and-go operations triggered this decline which advanced at an avalanche pace during the 1980s but has slowed somewhat over the past several years." The study found that while service stations and garages accounted for nearly half the products installed by mechanics in 1985, only 35% of the light vehicle service market found its way into these outlets last year. Lang predicts that a continued decline in the service market product volume in service stations and garages will force manufacturers and distributors, which depend on them as a primary window to the service market, to expand sales to other outlets.


---
In Passing

We were saddened to learn of the loss of our faithful friend and customer, Oman Price. Oman Price was known to many as "Mayor of Point Connett," He formerly was chief inspector of quality control at Revere Copper and Brass in New Bedford, where he worked for 41 years before retiring in 1977. He and his wife were married for 55 years until her death on April 1, 1997. Mr. Price was an avid saltwater sports fisherman and a member of the Fairhaven Saltwater Fishing Club. He particularly enjoyed fishing for bluefish and would say that "a bad day of fishing is still better than a good day at work." He enjoyed taking his family and friends out in his boat and gave away all the fish that he caught aboard his vessel, Renee. The Price family is one of our original customers since our opening in the early 60's. Oman had purchased several cars from us over the years and serviced every one of them with our service department. A few years ago, Oman was pictured in The Dartmouth Chronicle with Sam handing him the keys to his 3rd car purchased from us, a Buick Lesabre. The car prior to that was a 79 Chevrolet that Oman bought from us with 2,000 miles and kept it for 12 years until it had almost 250,000 miles. Oman usually waited while his car was being serviced. Many times he could be overheard having conversations with other customers in our waiting room. Often customers would tell us how pleasant Oman was to talk to. Oman had a wealth of knowledge and was a very kind and thoughtful person. Anyone who has had the pleasure to meet him will agree. Our deepest sympathy goes out to the Price family.

We were also saddened to the loss of George Pender, Joe Fortes, Mariano DosAnjos, Edwin A. Terpeny, Mary A. (Adamowski) Wojcik, Gerald D. "Jerry" Noonan, Lillian L. (Briggs) Saunders, Ray Besse, George Leahey & Regis Spangler. Many of you may remember George Pender. George was a technician here for 12 years until his retirement. He was also a technician at Chrysler Motors for 24 years. George was an Army veteran of World War II. Joseph Fortes, was a long time customer at Giammalvos. Joe was born in Brava, Cape Verde, and lived in New Bedford most of his life. He was a construction worker with Fleurent Construction in Fairhaven for many years until his retirement.

Mariano DosAnjos was another customer of ours. He was a communicant of Our Lady of Mount Carmel Church and formerly was a self-employed landscaper.

Ed Terpeny, another long time customer was an avid Dartmouth High School sports fan, Mr. Terpeny was born in town and lived there his entire life. Before his retirement in 1990, he was a data processing supervisor for Calvin Clothing Co. for 27 years.

Mary A. (Adamowski) Wojcik, another customer of ours and sister to our accountant Frank Adamowski. She was a graduate of New Bedford High School and Bridgewater State College, where she earned her bachelor's and master's degrees in education. She taught at elementary schools in Westport, Dartmouth and New Bedford and served as assistant principal at the Mt. Pleasant and William H. Taylor Schools before retiring in 1986 as principal of the Taylor School.

Gerald D. "Jerry" Noonan, another long time customer, and a longtime journalist. Born in Lynn, he was raised and educated in the Lynn public schools. He lived in Dartmouth 35 years. His career in newspapers began while he was an undergraduate at the Suffolk University School of Journalism in Boston. He was a reporter for the Lynn Item for two years and, after graduating from Suffolk in 1949, he joined the staff of the Rutland (VT.)

We would also like to remember another customer, Lillian L. (Briggs) Saunders. Mrs. Saunders was formerly employed as a nurse at Union Hospital, Acushnet Hospital and the Mattapoisett Nursing Home. For the last several years, she had worked for the Tremblay Bus Company, the Medeiros Bus Company and the Old Rochester Regional School District. She served in the Army Medical Corps for three years during World War II.

Another customer, Raymond Besse, known by our technicians as "Mr. Besse,". Ray always had a new joke for us to hear. Anyone that was having a bad day would go home smiling after talking to Ray. His personality was fun and inspiring. Ray often kidded that he was 30 years old going on 84. Mr. Besse was a member of the Post 1 American Legion State Baseball Championship league in 1929 and was a member of the American Federation of Musicians. Mr. Besse was an avid sports fan and enjoyed watching baseball and soccer, as well as other sports.

Another customer, George Leahey, was an insurance representative for the former New Bedford Institution for Savings until his retirement. Prior to working for the bank, he worked for Metropolitan Insurance Company and for the coin department at Coca-Cola Bottling Co., which was located on Kempton Street in New Bedford. He enjoyed sailing. Mr. and Mrs. Leahey were married for 54 years.

A final customer, Regis Spangler, was born in Pittsburgh and lived in Fairhaven more than 50 years. He was a self-employed mason for many years. A veteran of the Army, he served in Korea and was discharged with the rank of corporal. He received the National Defense Medal, the United Nations Service Medal, three bronze service stars and two overseas bars. At this printing, we also learned of the loss of our customer Jack Turner. A lifelong New Bedford resident, he was a member of Grace Episcopal Church. Mr. Turner formerly was employed by Tibbets Engineering and the city of New Bedford for many years as a civil engineer. He also had done private engineering consulting work.