Web Site Finally On-Line!
We finally have our web site up and running, thanks to our web developer Greg Lyman.
Our web address is www.samscars.com
We are updating the web page weekly with our latest car inventory and other interesting items, so be sure to visit our site often.
Mark and Glenn have been selected contributing writers for the National Publication: Motor Age Magazine. Be sure to check out their articles on our web site. Go to the Service Department Area and click on the Motor Age Link.
While we're on the subject, if you can think of a way to make our web site more interesting, please send us an e-mail or give us a call.
---
Who's Job Is It?
It is strange but true, most car owners never even open their vehicles' hood. Random vehicle inspections show most cars are lacking even the most basic vehicle maintenance, low motor oil level, low tire pressure, and inoperative lamps, just to name a few. We all know maintenance is important, but are we too busy to see it gets done? When was the last time the fluid levels were checked? Tires inspected for wear, tread depth and air pressure? When was the last time the belts and hoses were checked, or the battery terminals cleaned? If the answer isn't exactly at the tip of your tongue, perhaps it has been too long since your car's last maintenance check. Full service gas stations are almost a thing of the past, so overall vehicle inspections are best done during an oil change service. Most shops offer a complete oil change service that includes a vehicle inspection. Regular oil change services like this accomplish two things, not only is the motor oil and filter being replaced, but the inspection is being performed by someone who knows best what to look for. Remember it's your car, but if your too busy to perform some basic maintenance checks yourself, you need to make sure someone else is taking the time to do it.
---
Alldata Electronic Automotive Library Reaches Over 10 Million Pages.
Every 3 months we receive eighteen CD ROM update discs for our Alldata Database. We use this database to find everything from how to diagnose your car's anti-lock brakes to the location of your car's air bag control module.
Due to the complexity and amount of different automobiles and light trucks in the market place, the amount of service information has soared to new heights each year. In this update alone Alldata reports adding:
39,000 pages of Wiring Diagrams
30,400 pages of Electrical Diagnostic Flow-Charts
2,600 pages of Technical Service Bulletins
6,600 pages of HVAC (heating, ventilation & air conditioning) service procedures.
5,400 pages of brake and traction control diagnostic procedures.
Although Alldata reports we will never be able to read all this information in our lifetime, we must have access to this information in order to be able to quickly, efficiently, and correctly repair today's vehicles.


---
Giammalvo's Assist Local Girl Scout Troop.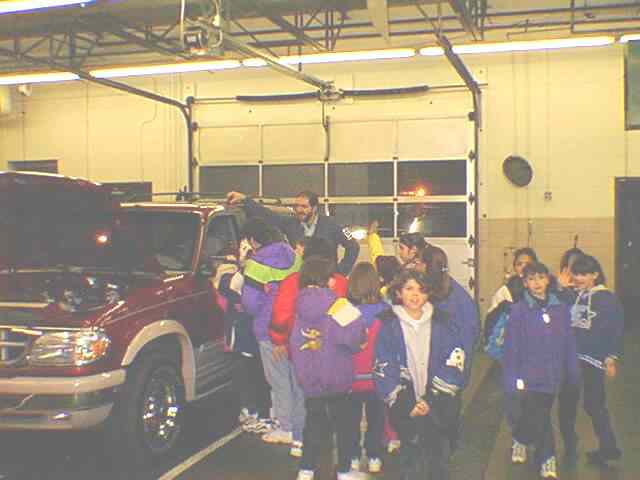 For the second consecutive year now, this past March, Mark and Glenn Giammalvo volunteered their services, and our service facility, to assists the local Girl Scout Troop in obtaining their Car Care Badge.
The Car Care Badge is a medal that a Girl Scout can receive after she has had supervised training with an automotive technician regarding Car Care.
During the event at our shop, the girls learned how to: check the vehicle's owners guide for recommended maintenance, inspect warning lamps and what they represent, how to check tire air pressure, checking fluid levels and condition.
---
Twin Sisters Purchase Two Cars.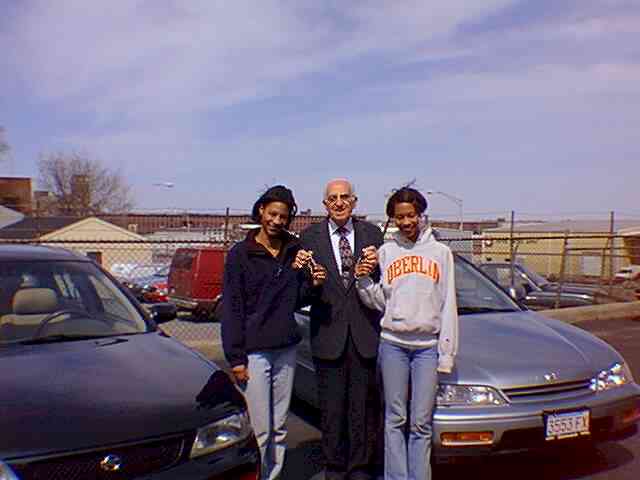 This April, twin sisters, Stacey & Sonya Merkman,
purchased two cars from us as graduation gifts on the same day. Stacey, standing on the left purchased a 1995 Nissan Maxima SE. Sonya, standing next to her car on the right, purchased a 1995 Honda Accord EX. Stacey and Sonya are the daughters of our customer Ronald Merkman. Sam is shown handing them the keys.
---
In Passing

We mourn the loss of the following friends & customers:
Anne Hargraves, Anne was born in Dartmouth and lived most of her life in New Bedford. Mrs. Hargraves worked at Bush Cleaners until her retirement.
Ashley Clark, graduated from New Bedford High School and received his business degree from Babson College in Boston. He was a World War II Air Force veteran. Prominent in the local insurance field, he was owner and president of Ashley Clark Insurance Agency Inc. of New Bedford.
Allan R. Houghton, a former teacher at Greater New Bedford Regional Vocational-Technical High School. A graduate of Dartmouth High School, he attended Stockbridge School of Agriculture, which is part of UMass Amherst. Mr. Houghton formerly was employed by Goodyear Tire and Rubber Co. for 17 years.
Eliza Travers, was born in New Bedford and graduated from New Bedford High School in 1941.
She retired as the secretary to the director of the Southeastern regional office of Blue Cross and Blue Shield, where she worked from 1961-86.
Ronald S. La Staiti, A South Dartmouth resident,
Mr. La Staiti founded with his father Southeastern Bank & Trust in New Bedford and in Rhode Island. When those banks merged with Bank of Boston, Mr. La Staiti worked as the president and chief executive officer of Bank of Boston's Bristol County subsidiary.
In 1989, he left Bank of Boston to be president of New Bedford Institute for Savings.
Robert MacCarter, who retired as NBIS board chairman, hired Mr. La Staiti with the intention of giving him complete control of the bank. "He was a great guy who really loved the community and worked very, very hard for it," Mr. MacCarter said.
He lived in Dartmouth for 23 years. He graduated from New Bedford High School and the United States Naval Academy. He received his master's of business administration from Harvard in 1970.

---
Catch us being Good!

Recently, automotive renowned writer and shop owner, Mitch Schneider, wrote an interesting article about a school bus driver who had broken down in his area. The driver and children came into his repair facility looking for assistance. Mitch noticed that the children were wearing large buttons that stated: "Catch Me Being Good". Mitch was moved by their excellent behavior. It prompted him to throw down a gauntlet for automotive service customers nationwide.
An excerpt of his article is reprinted below.
" ... I took a deep breath, moved away from the service counter and started out toward the shop when all of a sudden it hit me! Why wasn't anyone trying to catch you and me being good? More cars and trucks get fixed than don't! There are more satisfied customers than there aren't. That has to be the case, otherwise our customers would be hunting us down as if each one of us had a bounty on our heads! But they don't, and why is that? Because you and I do a pretty good job. Cars come in, they get diagnosed, serviced and repaired, and they go out. For the most part, they stay fixed, at least long enough to keep the majority of our customers satisfied! Most of us come in early and work late and treat our customers fairly and honestly. Almost everyone I know in this business uses quality parts and tries to do good work. In fact, most of us in this industry are honest to a fault, more often cheating ourselves rather than our customers.
So, why isn't anyone trying to catch us being good? Why isn't anyone there with a camera when one of our customers brings cookies or flowers or lunch
to the shop just to say 'thank you' for being there for them? Where is 60 Minutes when we're working late to repair a car or a truck that belongs to a customer from out-of-state, someone we know we will never see again? Where is the media when we give away a product or a service to one of our senior customers, someone who really needs the help? Where are they when we write countless checks to baseball, softball, soccer and ice hockey teams, high school pep squads or junior high school newspapers? I haven't seen them, have you?
Nobody's tried to catch us being good because there are an awful lot of people out there constantly trying to make us look bad! Well, perhaps it's time we changed all that and asked the motoring public, the people we serve, to catch us being good! It certainly won't hurt our image!

So, here's what I propose: an industry wide campaign focused on catching service dealers like you and I, and/or technicians like the thousands who work for us, doing something great, going above and beyond what's expected, achieving greatness through extraordinary effort. And here's how it can work!
The garage owner or technician with the most incredible single act of performance beyond the motorist's expectations, or the most consistent high performance, would become eligible for recognition. The folks at ASE have graciously agreed to act as final judges. There are many in our industry who are willing to applaud the fact that we do care, that we can perform and that we are worthy of a little appreciation and recognition! And a grand prize of $2000 for the winner would come from this publishing company itself!
But why would anyone participate? Why would anyone care? The obvious answer is because we are worth it! The majority of us care about our customers and about the quality of the work we do. And the challenge to be in the spotlight for something positive for a change, would be almost too compelling to ignore!"

We are asking our customers to identify any act of great performance that went beyond their expectation. Feel free to nominate anyone at our dealership from the office staff to the service staff. Whoever you think went above and beyond the call of duty. Below is the nomination form you can fill out or photocopy and mail to Motor Age Magazine
There is no limit to the number of times one person can be nominated. The cut-off date for submission of entries is September 1.


CATCH ME BEING GOOD CONTEST

Nominee (our employee's name)


Position (secretary, technician etc.)


Shop Name Sam Giammalvo's Auto Sales & Service Inc.


Address 1476 Purchase St. New Bedford, MA 02740


Phone Number 508-999-3213 Fax Number 508-999-1343


Nominated By (customer's name)


Address (customer's)


Phone Number (customer's)


I Nominate for the Catch Me Being Good Award

because: (write below or attach separate sheet).


































































































































Mail entry by September 1, 1998 to:

Motor Age

Catch Me Being Good Contest

201 King of Prussia Road

Radnor, PA 19089