Customer's Air Conditioning System Found To Have Contaminated Refrigerant
We have just seen our first case of "contaminated refrigerant" or what is also called a "blend refrigerant."
Due to the increasing cost of the old style R-12 refrigerant, some do-it-yourself people are installing less costly unapproved "blend refrigerants" that are claimed to work as well as R-12.
Before we hook up our costly air-conditioning recycling/recharge equipment to any car, we analyze a sample of the cars refrigerant with our Neutronics Refrigerant Identifier. The identifier takes a small sample of the vehicle's refrigerant and analyzes the chemical make up of the refrigerant. On this customer's car the identifier warned us that the vehicle's system was full of a "blend refrigerant." If we did not have this new device, we would have unknowingly contaminated our recovery machine, the Freon in the machine itself, (about $800.00 worth of refrigerant), and future customers' cars that the recovery machine would have been hooked up to. This is the reason that we identify all refrigerants before we connect our recovery equipment.
We hope we have not further confused you with the complexity of these issues. If you have a question pertaining to air conditioning or anything automotive related feel free to give us a call.
---
Communication

The single most important factor in good service is communication. More complaints are generated by mis-communication than any other source. Our staff is trained to listen carefully to the information you provide, but sometimes we may not clearly understand what you are telling us. Please take an extra moment to be sure we understand your service request or question. Minor details are often the most difficult problems to solve. Coolant and oil leaks are often multiple leaks. In the case of elusive or intermittent technical problems (epically noises or vibrations) extended diagnosis may be required. They sometimes occur only under the special circumstances of your driving habits and parking conditions. Therefore, they are not always solved the first time. Intermittent problems, especially electrical ones, are practically impossible to solve until the condition occurs for us. We will work diligently together as a team with you to get your vehicle's problems resolved.

---
My Turn.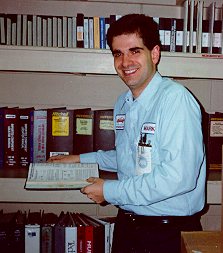 In the Feb. 98 issue of Motor Service, (an automotive service industry journal), I read an article by nationally known automotive writer, Greg McConiga. Although the article was interesting, the subject matter was disheartening.
Greg had just had a conversation with another shop owner. As they gabbed, the conversation changed to the hot topic of charging for diagnostic time. This subject isn't really that new. Let's talk a little history here: Twenty years or so ago, you didn't hear much as far as diagnostic time goes. Back then, prior to electronics in cars, automotive technicians could tell you why a car wouldn't start or why it stalled out, in a relatively short period of time. There weren't many possibilities because there weren't many factors. Today, with the average vehicle having three or more onboard computers and several miles of wiring, the art of automotive diagnosis and repair has taken on a life of its own. Nowadays, a technician often spends a large amount of time just trying to duplicate the problem let alone find the cause. Due to the intermittent nature of electronics, often a car is brought in with a complaint but the symptoms never manifest themselves during the test drive. In this industry, I have discovered, that in order to repair a problem on a vehicle, the problem has to be both abnormal and reproducible. If it's not reproducible, what do you do then? Replace a part on a hunch? And if so, which part? That's enough history for now, back to the story at hand.
The shop owner that Greg was talking to did not believe in charging for diagnostic time. To quote the article, the shop owner stated:
"What's the point in having a bunch of test equipment, or competent service technicians? How many parts can you hang on a car, in lieu of doing diagnostics? A customer doesn't understand a hundred-dollar bill for diagnostic time, but does understand that the car needed a part. Hiring seasoned technicians means that I've got to pay a bunch of money in wages, and having a bunch of equipment means more expense as well. How many parts can you hang on a car for what it costs you to buy and finance a $35,000 tester or pay a good tech a living wage and benefits? I make more money hiring an eight Eor ten-dollar an hour guy and just have him hang parts until the problem goes away."
He continued:
"The customer is happier (with parts instead of labor), the car is fixed (albeit with a few more parts than might otherwise have been needed), I don't have the big overhead that an experienced man or expensive tester costs me and I can explain hanging parts easier than I can explain a diagnostic charge! Plus, at least the customer gets the benefit of a new part, even if it doesn't fix the car! With diagnostic time there is no perceived benefit."
Greg commented in his article by stating:
"What's scary about this conversation is that this guy's day job puts him in shops all over the region (absentee owner) and he says that he's arrived at this conclusion by watching financially successful shops operate. And he was dead serious about it. I've always said that it was an unfortunate fact that a shop owner knows he can make more money with a poor to mediocre technician than with a good tech. The career path in this business is backwards if incompetence is rewarded and competence is considered excess overhead. Imagine being middle aged, with $100,000 invested in tools and equipment finding out that while you thought you were becoming more and more marketable as you became more and more capable, in fact you are becoming less and less marketable. Instead of being considered an asset, you are seen as a liability. In every other business, trade and profession in the world, as you gain knowledge and experience you are considered more valuable with increased experience."
I, like Greg, just don't agree with this shop owner's philosophy. It's a shame that a shop owner can be financially successful and have this view point. I agree that it's hard to explain to a customer that you have to charge for the technician's time in testing components on the car to find the problem. But, after all, the shop has to pay the technician to test sensors, wiring and computers until the problem is found. Should we ask the technician to diagnose and test the car for free? How would he then put food on his table?
"Shotgunning" is automotive parlance for guessing at a solution by installing part after part until the problem is found. That's not professional work! How does this shop
owner explain that to the customer? Oh, Mr. Jones, we found your problem. You needed a Mass Air Flow Sensor, an Oxygen Sensor, a Throttle Position Sensor, a Coolant Temperature Sensor and a Computer. Would a doctor replace a lung on a hunch in lieu of a strong battery of tests to prove its failure? I think not. Maybe this shop owner is profiting because of all the extra parts he is selling. If you ask me, it would be wiser and more economical to test the circuit and find the problem at the cost of a few hours of labor rather than replacing $500.00 worth of parts and then stumbling across the real problem. We still are convinced that testing, not guessing, is the correct avenue of proper automotive repair.
Time is hard to explain because it is something that the customer cannot "feel" or "touch" The customer cannot see the value of the time unless he actually watches the technician through the whole process of testing and the use of all our specialized diagnostic equipment. Consider the Technical Hotline service we use. We use this service if we encounter a car with a very unusual problem. This service allows us to discuss vehicle specific problems with some of the smartest automotive repair people in the country. They receive calls from technicians like us in every state and create a database of "fixes" based on the calls they receive. The price of speaking with them has considerable value. Their fee? $3.50 per minute. That's right, $210.00 per hour.
Perhaps there is a way to place value on a technician's smarts and time. A good friend and long time customer, Harold Johnson, recently shared a saying with me that is now hanging in my office: "Like an attorney, a technician's time and advice are his stock in trade."
---
Our Customer's Poem Is Published!
Our customer, Dorothy Jacintho, recently had an original poem published in "The Scenic Route," a treasury of poetry compiled by the National Library of Poetry. The main subject is partnership with love. Dorothy has been writing for ten years and her favorite subjects and ideas are children's poems, prayers and music. Here is her poem:
You Believed In Me
What is this word that they call love
It is a feeling
It is a touch
I don't know how much
I only know I love you more, more than before
You made me feel like I belonged
How could I ever, ever go wrong
I'm in my world and you in yours
I don't know when we'll meet again
You're right beside me because you believed in me
They say that all good things must end
But I'll prove to the world they're wrong again
I wrote this song so you'd live on
Deep in my heart we'll never part
You're like a river that never ends
You are my reason
Why you are like every season
You are the sun that shines so bright
You are the stars that fill my nights
You're right beside me because you believed in me
Dorothy Jacintho
Hats off to Dorothy! Well done!

---
Thanks For The Compliment!

Once again, we take the time here to thank all the customers who have been sending us all those great complimentary letters lately. We know that there are many things we do correctly every day that are noticed, but sometimes, those things have such a profound effect on people it compels them to write and tell us.
The following is an excerpt of a recent letter from our customer Celeste daCosta:
"Dear Sam;
I recently attended a conference on team building and marketing at St. Luke's Hospital. The basis of the conference was to understand what the customer is looking for and how to deliver high quality services. During the conference each table had to develop a fictitious hospital with leaders for each department; such as listing General Colin Powell as the best example for organizational skills. Under the category of reliability, honesty and commitment to service ...your name was listed in the majority of cases.
I thought to myself, what a great tribute to a man who has built his reputation through hard work and believing in doing what is right. It is refreshing, in this day and age to know there are still people like you who believe in such values.
Out of the six people sitting at my table three had bought cars from you. They said they wouldn't think of going anywhere else for a car.
You have the right to be proud."
Sincerely,
Celeste daCosta
Our heartfelt thanks go out to all of you wonderful customers who send us these great letters. You really know how to make our day! Thanks again.
---
A Little Trivia.


1903 was the debut of the enclosed car and glass windshield.

1908 the first rumble seat was produced. It was part of a Packard two-seater called the "Honeymoon car."

1914 Henry Ford started paying his employees a daily minimum wage of five dollars. He thought that his employees should be able to afford the cars they built.

1920 pneumatic tires were introduced allowing better ride quality but with the new drawback of the possibility of flat tires.
---
In Passing.
We are saddened at the loss of our following long time customers.

Mary Vidal. A graduate of Fairhaven High School, she attended St. Anne's School of Nursing and worked as a secretary for the Department of Social Services at St. Luke's Hospital for 20 years until she retired in 1974. She also worked at the New Bedford Free Public Library for a short time.
She was a communicant of St. Joseph's Church in Fairhaven and was a former member of the choir and a member of its Legion of Mary and Sacred Heart Association. She sang with the Douglas Memorial Gospel Choir for more than seven years. An avid reader, she was a Friend of the New Bedford Free Public Library.
John H. Ackerman. A career newspaperman with The Standard-Times and a well-known figure in the community. Mr. Ackerman's friends and former colleagues remembered him as a man of virtue and a journalist of quality. "John was almost as close a friend as you could get in that kind of association," said J. Richard Early, a former editor of The Standard-Times. "He was a voracious reader and he was a talented writer. Never the kind of guy who set out in a news career to put somebody in jail -- he was more concerned about the quality of life that they had."
Edward O. Sanchez Sr.
"He was one of the smartest people I ever worked for," said David Paquin of Fairhaven, who is now a traffic controller at the Cape Cod Canal but first began working for Mr. Sanchez in 1959 and served as the company's operation manager from 1976 until 1985 when it was sold.
"He did so many things, salvaging ships and fishing boats and stuff, and it was just immeasurable." The Sanchez family were descendants from the Spaniards who originally settled in St. Augustine, Fla., and Mr. Sanchez's own father used to run a sailing schooner out of Block Island and Newport, R.I., in the early 20th century. He once estimated the number of salvage jobs he had been involved in would run into the hundreds.
Randolph Braga. Born in Fairhaven. He lived most of his life in New Bedford, then in Acushnet for 11 years before returning to New Bedford two months ago.
He was employed by Borg Warner for 27 years as a supervisor until his retirement.
Mr. and Mrs. Braga had been married 38 years. He graduated from New Bedford High School. In his leisure time he enjoyed being involved with computers.

Our sympathy goes out to the Vidal, Ackerman, Sanchez and Braga families.