"Some 1990-1994 Cadillac's that require premium fuel may experience one or more of the following intermittent driveability conditions: Exhaust rotten egg odor or sulfur odor, poor cold engine operation, hot restart problems and detonation.
Cause: These conditions may occur due to the fuel in the vehicle. Poor quality fuel has been recognized to cause any of the above conditions. High sulfur content fuel has been recognized to cause exhaust rotten egg odor or sulfur odor conditions. Oxygenated fuels which are used in many areas of the country may have a distinctive odor. The objective of oxygenated fuels is to reduce tail pipe emissions of carbon monoxide. Carbon monoxide in the atmosphere, especially during winter months when it is at its highest levels, can affect the health of people with heart disease and respiratory problems. The oxygenated fuels contain oxygen compounds that make combustion more efficient while lowering carbon monoxide levels in the atmosphere. The Federal Clean Air Act Amendment of 1990 requires the use of oxygenated fuel in nearly all carbon monoxide non-attainment areas in the United States. (Massachusetts is a non-attainment state). The program began last winter in certain non-attainment areas. These regulations will continue in the future years with wintertime fuel starting, in some cases, as early as the beginning of September and ending as late as April depending upon the area of the country.
Correction: Verify from the customer when they first started noticing condition (i.e., after changing fuel brands). Check for any Powertrain Control Module diagnostic trouble codes. Diagnose and repair all trouble codes then re-evaluate the vehicle. Perform basic emissions checks as outlined in section 6E-B of the 1994 Cadillac Service Manual. If the above steps are ineffective, do not proceed with any further diagnosis or parts replacement until the fuel tank has been drained and refilled with a known good quality gasoline. This should correct the condition. In the unlikely event these steps do not correct the condition and tail pipe emissions meet compliance standards then the vehicle is considered to be normal."
Well, we are happy to report that the customer came by about a week later to tell us that he did change brands of fuel and the odor is gone. Whew!

---
Dean Howard Receives The University Service Award.
This past fall, our customer, Donald Howard (Dean Howard) of Umass Dartmouth, received The University Service Award. Dean Howard was honored by many friends and dignitaries including former Massachusetts Governor Michael Dukakis. Chancellor Peter H. Cressy spoke of how appreciated Dean Howard's advice was upon his arrival at the university. He called the Dean's depth of knowledge of the university and students "incomparable." State Sen. Mark Montigny, class of '84, gave an emotional tribute since Dean Howard not only molded his political career but has meant a great deal to him on a personal level as well. Mark's classmate Bob Gonet, '84, mentioned how Dean Howard had "pushed, prodded and prompted a dumb jock" into first a master's then a doctorate program. The praise and thanks continued. Dean Howard was referred to as an "institution within the institution," "the soul and conscience of the university," and more. Congratulations to Dean Howard


---
A New Face.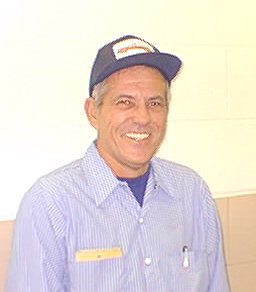 You may have noticed a new face at our dealership recently. Due to the ever increasing size of our service department, we have found it necessary to hire an additional employee (or as we like to call) "family member." Joe Veiga, pictured here, fulfills many duties including, facility maintenance, transportation of customers and their vehicles, transportation of parts for the service department, etc. Joe is recently retired from the Federal Aviation Administration, where he served in a dual capacity as regional administrative computer systems manager, and budget officer. Prior to working for the FAA, Joe worked for 14 years as an Auditor for the U.S. General Accounting Office where he had many duties including auditing special programs for federal, state, and local government agencies. Joe even appeared in a past episode of 60 Minutes demonstrating his position as an auditor for the General Accounting Office. Joe and his wife Carol have been married for 35 years and reside in Dartmouth. He enjoys golfing, fishing, lobstering, traveling and working in his yard.
---
State Stalling On New Vehicle Inspection Program.


A lack of progress in implementing a new emission inspection program my result in the delay of new electric power plants and cost our state millions of dollars in withheld federal highway funds.
The U.S. EPA continues to warn the state that special state sanctions may be imposed if a new emission program is not operating by the spring of 1999.
Under the Clean Air Act, Massachusetts is one of twenty states with excessive levels of ozone that should have implemented a new program back in 1995.
As many as fifteen proposed power plants that are to burn natural gas to produce electricity could be delayed by two-to-one-offset-sanctions which would require the elimination of twice as much pollution that the new plants would produce.
"I'm very hesitant to initiate sanctions against the commonwealth," John DeVillars, the EPA's New England Administrator, said. "Of all the ways of solving this problem, it is the least satisfactory. But we will very soon be left with no other choice," he said.
The state reports that they are still negotiating an estimated $215 million contract with Keating Technologies Inc. of Tuscon, Arizona. Keating would be responsible for installing and maintaining the special equipment needed for a "high technology" emission inspection program. To pass the test all vehicles would be required to run on a device called a dynamometer. (A special "tread mill" type device that the car is driven on to simulate up hill climbs). The car's emissions would be sampled throughout the test while running on the dynamometer. In our current program, vehicle emissions are sampled when the car is idling.
State officials are stating that the cost of the system will not require increasing the present $15.00 inspection fee by more than $5.00. Auto inspection station owners around the state report that the state knows the shops could never afford to cover the costs of the specialized equipment and training with only an increase of 5.00 per sticker. Mark Giammalvo was quoted as saying, "I guess they're planning to sell this program to station owners that can't do math. No one wants to tell the public there's going to be a significant increase in the price of the stickers, especially the governor, but I don't see how it can be avoided. The average sticker cost to consumers in other states with this type of enhanced program is $32.00 to $45.00 per sticker. Given the anticipated costs of this new program, and the fact that the contractor, (Keating), will get a fee of $8.00 from each sticker, even with the expected increase in the amount of inspections we would be performing, a price of $20.00 per sticker wouldn't even make the lease payment let alone pay an employee to perform the tests. I wonder who they're going to get to do all those stickers at a loss....Funny how several years ago the state was planning to run the program themselves...now they want us to run it again, maybe they did the math."
The new plan would also cut the number of inspection stations from approximately 2,000 to around 1,200. In addition, special emission recording devices with license plate capturing cameras would be installed along the highways to measure vehicle exhaust pollution with infrared technology. This road mounted equipment is known in the automotive industry as "remote sensing."
If a vehicle drives by the device and passes the emission test, a camera takes a snapshot of the license plate. Armed with that information the registry can notify the owner that their vehicle can skip the emissions test that year.

---
Web Site Expanding.
We have diligently been expanding and enhancing our web site. Recently, quite a few customers were asking for pictures of our inventory of cars. We have added quite a few photos and currently have pictures of about ½ of our entire inventory. In addition, we have added animated graphics and sound. We have even added a music page where you can select a song from our list and listen to it as you continue to browse the Internet. The files are in a user friendly format and most download within 10 seconds. Many of you commented on our special Holiday pages that were up between Nov. 1 and Dec. 31. We thought that our web page should not just encompass automotive issues and evidently you agree! We are working on more fun feature pages for the near future. Keep checking in at www.samscars.com

---
In Passing
(Obituaries Courtesy The Standard Times)
We were saddened to learn of loss of the following customers:
Many of you may remember Steve Swol, a former technician at our shop. Steve graduated from Bishop Stang High School and attended the General Motors Training Center in Dedham, MA. Steve was an expert automotive technician and had vast knowledge regarding automotive fuel delivery systems. He obtained many certificates for car repair and was nicknamed "Doctor Mechanic." In his leisure time, he enjoyed woodworking and working on cars.
Joseph Edward Dubois was not only a Giammalvo customer for many years but he also worked at Giammalvo's Market for 45 years as a meat cutter until his retirement. Mr. Dubois was a World War II Navy veteran and a member of American Legion Post 166 Fairhaven. Mr. Dubois and his wife had been married 52 years. In his leisure time he enjoyed fishing, bowling and playing cards.
Ventura B. Sylvia, was a lifelong Dartmouth resident and a communicant of St. Julie Billiart Church. Mr. Sylvia and his family owned and operated the Sylvia Brothers Farm in Dartmouth for many years until his retirement in 1982. He was a member of the Agri-Mart Milk Association.
Loretta Benedetti was a lifelong resident of New Bedford, where she was a communicant of St. James Church. She retired in 1990 from Sacred Heart Home where she was the assistant administrator. She was a 1933 graduate of New Bedford High School and graduated from the former Campbell Business School. She served on the board of directors of Sacred Heart Home, and was a member of St. Hedwig Seniors and was a past secretary. She was a member of the New Bedford Women's Club and was a charter member of the Ivy Circle and was a past president.
Elton A. Ashley, born in Rochester, he grew up in New Bedford and Fairhaven. He graduated from Fairhaven High School, where he was an outstanding athlete, excelling in baseball and football. He played semi-professional baseball for the Falcons of Fairhaven. Mr. Ashley was a U.S. Navy veteran of World War II, serving aboard the U.S.S. Forrest, where he saw active duty in both the European and Pacific Theaters. He received several honors and medals, including the Navy and Marine Corps Medal for Heroism at Okinawa Gunto. After moving to Acushnet in 1952, Mr. Ashley became active in town affairs. He served as town moderator for two years and as a selectman for 17 years. During that time, he was chairman of the Acushnet elementary school building committee, the committee to build a fire station at Long Plain and the charter committee to re-establish Boy Scout Troop 37 at Long Plain. The late A.P. Stuart Gilmore, former town moderator, once described Mr. Ashley as "a man of high principles, integrity and strength of character." Mr. Ashley worked at the former Acushnet Process for 22 years, was production control manager at Payne Cutlery for 10 years and owned and operated Ashley's Service Centers in New Bedford before his retirement in 1986.
Ademord Goyette Jr. was a lifelong New Bedford resident and communicant of Sacred Heart Church. He was formerly employed by Wamsutta Mills and Berkshire Hathaway before retiring from Sakin Mills. He was a World War II Army veteran and a member of the Veterans of Foreign Wars, Poirier Post 3260 and the Foresters.
Mary Wladen had been a lifelong city resident and was a communicant of St. James Church. A member of the Holy Family High School Class of 1938, she also was a graduate of the Kinyon Campbell School. Mrs. Walden was employed as secretary for the Moby Dick Council, Boy Scouts of America, in New Bedford and, after her retirement from the Boys Scouts, was employed for a short time in the law office of Metthe and Metthe in the city. The recipient of the Pelican Award from the Boy Scouts, Mrs. Walden also received in April 1985 the St. George Award in recognition of her outstanding service to the spiritual development of Catholic youth enrolled in the Boy Scout program. Active in her parish, Mrs. Walden received a Marian Medal in 1981 from the Fall River Diocese in recognition her work on behalf of St. James Church. She served as co-chairman of the parish's centennial celebration and was a member of the St. Vincent de Paul Society and the St. James Ladies Guild. Mrs. Walden also was a volunteer at St. Luke's Hospital and a member of the Pairpoint Cup Plate Collectors and the Diabetes Association of Fall River.
Joseph Noyer Jr. was a lifelong New Bedford resident and communicant of St. Kilian Church. An accomplished photographer, Mr. Noyer owned and operated the former Ro-May Studio. He was employed for many years as a cutter by Cliftex Manufacturing, as well as by various other textile manufacturers. One of his last places of employment was in the computer room at Vanity Fair.
He was an Army veteran of World War II. His tour of duty was mainly in the Pacific and he received the Army of Occupation Medal, the Asiatic-Pacific Campaign Medal, the Good Conduct Medal, the World War II Victory Medal and the Philippine Campaign Medal. He was a member and past commander of the Veterans of Foreign Wars, Andrews Dahill Post 1531, and the Disabled American Veterans. He was a member of the Operation Exercise Tiger Committee. Mr. and Mrs. Noyer would have celebrated their 50th wedding
anniversary in May.