---
Thanks For The Compliment!


Once again, we take the time here to thank all the customers who have been sending us all those great complimentary letters and e-mails. The following is a recent e-mail from our customer Bob Lawton:

Subject: To Sam, Mark, Glenn, and the staff at Giammalvo's
Date: Mon, 1 Feb 1999 15:08:20 EST
From: LAWTONBOB@aol.com
To: samgauto@samscars.com

To Sam, Mark, Glenn, and the full staff at Giammalvo's,

I would like to take a minute to thank you for the excellent service you have provided to me over the past three and a half years. I am sure that my '93 Taurus would not be running as well at 170,000 miles as it does without your expertise. Regardless of where my job takes me throughout New England I am always confident that my car will take me there and back, thanks to you. The professionalism shown by everyone I have encountered at Giammalvo's is exemplary, and is a reflection of Sam himself. Regardless of the situation, either an oil change or new brakes, you always operate at the highest standard.
Bravo!

Sincerely,

Bob Lawton


---
Our Customer Receives Heritage Award.
(From The BCC Spring 1999 Briefing Newsletter)

We are pleased to announce that, our customer, Doreen Henry, received The Heritage Award in honor of Black History Month. Ms. Henry was recognized for her dedication and service to the minority community and as a New Bedford citizen. Ms. Henry is a minority recruiter at Bristol Community College



---
Recycle For Special Olympics.


Are you looking for an inexpensive and environmentally correct way to get rid of an unwanted car? Would you like to help a great charity? Now you can do both by donating any unwanted car or truck to Special Olympics Massachusetts. Simply call 1-800-590-1600 to have your unwanted vehicle, in any condition, removed free of charge. Proceeds help support our program of year-round sports training and competition for individuals with mental retardation and over 10,000 athletes.



---
Toyota's Gas/Electric Car Gaining Popularity.



The four door Toyota Prius is proving to be a success with consumers and rival manufactures. Currently, only available in Japan, the Prius is different than the conventional electric car in that it also has a small 57 horsepower four-cylinder engine. The engine starts up and shuts off by itself, powering the car when needed and charging the batteries as the car drives. Technically, when the engine is off, your driving an electric car. The onboard electric motor is rated at 40 horsepower. A disadvantage to electric cars is running out of battery power with charging stations so few and far between in the country. With the Prius, if the batteries run down to the point where they can't power the car, the gasoline engine continues to run, powering the car as it recharges the batteries. When the engine is off and you put the gas pedal to the floor the engine will start since asking the car to speed up drains the batteries more quickly that gradual acceleration. As you brake the car and come to a stop, the engine turns itself off and the batteries get an additional charge from "regenerative braking" (the electric motor that normally powers the car sends power to the batteries instead of the wheels since no horsepower is needed by the car during braking). Since the gas engine is not running all the time, the car averages 66 miles per gallon. The downside is that the Prius is slow to accelerate and the vehicle is very complex. There have been stories of some braking down and the dealers in Japan are not yet trained to repair them. As you can imagine, a transmission that allows a car to be powered by a gas engine, or an electric engine, or both at the same time, is not one that is going to be repaired at the corner garage. Many automobile manufactures are purchasing them to dissect in order to learn how Toyota has delivered such an innovative vehicle. The price? Currently, under $18,000 in Japan.
---
License Plate Meets Tire.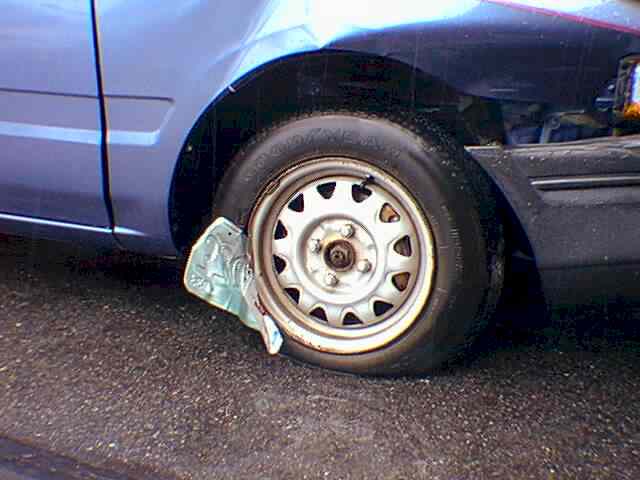 Recently we had a customer stop by immediately after an accident with his vehicle. The customer reported that their right front tire became low on air after he collided with another car. As you can see, much to our amazement, the license plate from the car he collided with wedged itself between the tire and wheel on his car. Fortunately, no one was injured in the accident. Well, you might say, at least he got the plate!


---
CARB Approves Scrappage Program.
The California Air Resources Board (CARB) approved final regulations instituting an aggressive scrappage program across the state. Under the new regulation, CARB will crush up to 150,000 cars a year for 10 years to meet emission reduction goals. Despite California law to the contrary, the regulations will not allow for salvage or recycling of vehicle parts or engines.

---
Customer Is One Of Top 100 Finishers Of '99 Boston Marathon.
Congratulations go out to our customer, Deon Barrett, for finishing as the 77th male runner out of 11,300 runners in the '99 Boston Marathon. Deon turned in an impressive time of 2:35:32 considering this is his first attempt at the marathon. Deon, who now resides in Canton, went to high school in New Bedford and was a cross country All-American at Umass-Dartmouth and is also a member of the Greater Boston Track Club. Deon was referred to us by his grandfather, Puddie Gilmette, who has purchased many cars from us over the years and is a long time Giammalvo customer. Puddie stopped by to give us the good news shortly after the marathon. Hat's off to Deon!

---
In Passing
(Obituaries Courtesy The Standard Times)
We were saddened to learn of the loss of the following customers:
Esther Whitaker, born in Orchard Grove Farm, Ovid, Mich. She graduated from Ovid Public School, received her bachelor of science degree from Central Michigan University in 1936, her master's degree from Teacher's College in Nashville, Tenn., and did other graduate work at Denver University and Sacramento California State College. She was a vocal student of J. Howard Powers at CMU and of Carl Gutekunst and Percy Rector Stephens of New York City. Her work included supervisor of music at Ionia, Mich., public schools and for many years taught music education at New York State University at Oneonta, N.Y. The joy of music ran throughout her life. She was soloist and choir director at the First Presbyterian Church in Ionia, the First Presbyterian Church in Oneonta and at the Unitarian Memorial Church in Fairhaven, Mass. She directed both men's and women's choral groups at the University in Oneonta and other communities where she had lived.
John E. Vidal Jr., was a lifelong city resident. Mr. Vidal worked at Fairhaven Cleaners more than 15 years and was an assistant foreman at Chamberlain Manufacturing for 18 years; he retired in 1980. After his retirement, he worked part time at Catelli's Dry Cleaning in New Bedford. He was a communicant of St. Joseph's Church, Fairhaven. He was a first sergeant in the Army in World War II and received the Good Conduct Medal and the European African Mideast Campaign Ribbon with four service stars. He served in Normandy, Northern France, Rhineland and Central Europe.
Frank "Friday" Francis, born in Fairhaven, he lived in New Bedford for many years, returning to Fairhaven in 1985. He was employed by the former Continental Screw Co. in New Bedford as a yardman from 1946 until he retired in 1981. An Army veteran of World War II, he received the Victory Medal, American Defense Medal, and American Theater Medal.
Clifford S. Davis Jr., born and raised in Beverly, he lived in Dartmouth since 1962. Mr. Davis was the president and chief executive officer of Charles S. Ashley and Sons Inc. Insurance Agency for 26 years. Mr. Davis was a graduate of Beverly High School, the Maine Maritime Academy, and Boston University.
He was a member of the Kiwanis Club, the Country Club of New Bedford, and the Independent Insurance Agents Association. He was a member of the Trinity Lutheran Church. He had been active in the Boys Scouts of America. He served as a lieutenant in the U.S. Navy during the Korean War, and later served in the Naval Reserves until his retirement after 20 years of service.
Francis P. "Frank" Benedetti, born and educated in New Bedford, he had been a lifelong resident of the city and a communicant of St. James Church. He had been employed by the city of New Bedford Police Department for 32 years and attained the rank of sergeant before his retirement. He was a member of the Massachusetts Police Association, the YMCA, and a former member of the Benevolent Protective Order of the Elks. He served with the Naval reserves during the Second World War.
Yvonne Alice (Lague) Rivet, Mrs. Rivet was born in Westport and lived in New Bedford until moving to Acushnet 31 years ago. She was a communicant of St. John Neumann Church, East Freetown. She was co-owner, with her daughter Norma, of Venus de Milo Coiffures in Acushnet until retiring. Mrs. Rivet and her husband spent their winters in Florida. She enjoyed being with her family and grandchildren.
Bertha (Zajac) Debski, she was a lifelong New Bedford resident and communicant of St. Hedwig Church. Mrs. Debski was an office manager for the City of New Bedford, department of public works, until retiring in 1982.