Rental Track mainly sells their product to rental car companies. If a person "skips" off with a rental car beyond the time terms of their agreement, the rental company can find the car via satellite and even command the car to not start on the next "start attempt." Now, some new car dealers are using the system in vehicles that are leased to owners with bad credit. If the person fails to honor their lease payments, the dealer can locate the vehicle, prevent a restart and then tow it back to the dealership.
Although Rental Track's main focus is rental cars, they believe that they will be working with more new car dealers in the future. So remember, the next time you rent a car, big brother may be watching.
---
Donate Your Car!

Donating your car, truck, newer RV, or boat to the American Cancer Society is tax deductible and may save lives! Don't delay, call them at Cars for a cure at 1-888-CAR-5500 or visit them on the web at www.cancer.org.

---
Dome Lamp Allergic To Car Wash.
If you have a 1994-1995 Ford Bronco, F Super Duty Truck, or F-150-350 Series Truck, you may experience problems with some interior lighting circuits after going through a car wash. According to Ford Technical Service Bulletin # 95-14-11, these vehicles may have a clearance problem between the outer roof panel of the cab and the dome lamp mounting screws. Three screws are used to secure the dome lamp to the roof inside the truck cab. Two of the screws are used to complete electrical circuits for the dome lamp's operation. One of the screws has 12 volts at all times. When there is sufficient downward force applied to the outer roof panel of the cab, (such as when the brushes and dryer pass over the roof in a car wash), the roof panel will make contact with the screw that carries 12 volts. As the roof panel, which is connected through the truck frame to battery negative, contacts the 12 volt screw, it causes a direct short to ground. When this occurs, fuse 8 will sense the short and self destruct to protect the circuit from fire. With fuse 8 now blown, all interior lighting will be inoperative. The owner leaves the car wash wondering why the interior lighting is inoperative. When service personnel find the blown fuse, they replace it only to find all lighting functions are normal. Technicians are left wondering why the fuse blew and if it will happen again. Ford reports that the screw, which is about an inch in length, is too long. Ford recommends removing the dome lamp assembly and the screw, and installing a smaller, 3/4 inch long screw (part# 52802-S36B). Ford is not covering this repair since 1994 and 1995 cars are out of warranty but it is an inexpensive procedure that takes less than a ½ hour.

---
What Is Half A Tune-Up?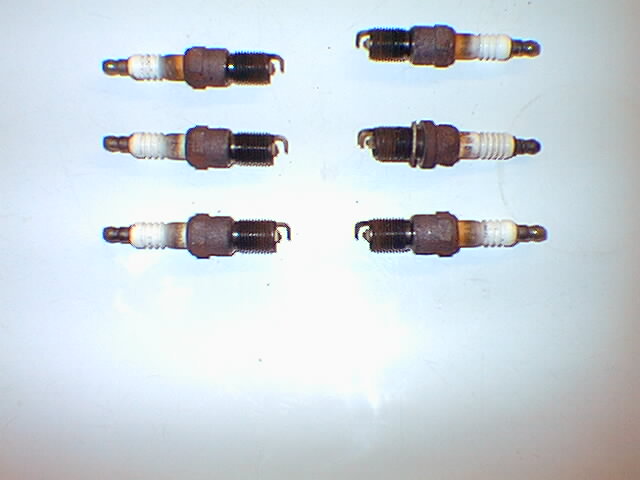 Recently, one of our Vocational students was assisting a technician performing a tune-up on a customer's late 80's GM car. The student was comparing the three spark plugs that came out of the front three cylinders to the three spark plugs that came out of the back three cylinders. The student found it strange that the electrodes on the three rear spark plugs had worn clean off, yet the front three plugs still had some visible electrode remaining. In addition, the rear plugs seemed older than the plugs in the front. Our technician knew the cause since he had seen it before. It was one of those unfortunate things about this industry that you have to explain from time to time. The customer had another shop, or person, tune the car up in the past. But what they didn't know was that they actually got ½ a tune up. The rear spark plugs on this type of front wheel drive vehicle are extremely difficult to change. Since the car is front wheel drive, the engine is mounted transversely instead of front to back. The front plugs are facing the radiator. The rear plugs face up against the firewall. You literally have to contort your arm and hand into painful positions to access those rear plugs. Think we're kidding? Ask anyone that has done them, they will show you the scar tissue. Even though the customer had paid for a tune-up in the past, the rear plugs were never changed. We'd like to see the old invoices on some of these blundered jobs. Bet there are six plugs billed out on the slip! Since the rear plugs had not been changed in more than 70,000 miles, the electrodes were worn off. Not only is this a shoddy tune-up job, it also has the potential to be very costly to the owner. This can cause premature ignition coil and module failure. Since the spark has to bridge such a large gap, the vehicle's ignition coil and module have to work at constant full output. This is not something they are designed to do. Some of these coil/module combos are more than $500.00. It is cheap insurance to replace spark plugs at the proper intervals and make sure the person doing the job can be trusted to do it correctly.
---
A Year In Review.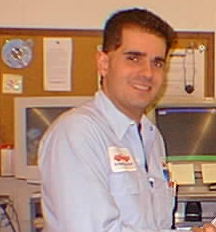 As I sit fireside writing on this cold January night, I trust that you are also warm in the comfort of your own home. As this new year begins I can't help but reflect on the year past. It seems that there have been a great many changes in both the automotive industry and others. It has been a year for the largest automotive tire recall this country has ever known. I wonder who really was to blame. After spending two billion dollars, (yes I said billion), trying to redesign the Oldsmobile line, GM has decided to drop the Olds division entirely. I suppose they'll call it a write-off. They must have some good accountants. The transmission fluid saga of this industry continues to grow. It started about fifteen years ago when all we had to carry was Mercon Fluid for Fords and Dextron Fluid for all other car brands. Then GM developed Dextron 2, then they developed Dextron 3. Then a blend fluid called Dextron/Mercon was developed so we purchased that. Then about three years ago came a special fluid for late model Chrysler transmissions. Chrysler claims that their transmissions are designed in such a way that other fluid types will cause internal failure. As a result, we had to stock that type. Just recently we had to purchase a special transmission fluid for the 99 and newer Fords called Mercon 5. Now Ford is claiming that using anything but Mercon 5 will cause trouble in their 99 and newer models. When will it end? Pretty soon we'll have transmission fluid coming out of our ears. Perhaps we could add onto the building to accommodate the storage required for all this nonsense. I'd like to meet the engineer that designed some of these transmissions. I'll bet he has quite a deal going with the oil companies. He ought to be retiring real soon. There have been other newsworthy events. (Lets just say I don't want to hear the word "recount" in the near future).

My savings and checking account have yet again been purchased by a second bank in two years. The account numbers are again all different. Well, I suppose it doesn't matter, I haven't had enough time to memorize the last number change. It was nice of them to send a free package of checks with the new numbers. The thirty checks ought to last a month or two. Could they have spared any? Figures I had just bought some more of the old ones. Now I'll have to buy them again. I'd swear they always change the account numbers right after I order more checks.

The new fee schedule was a real eye opener. Overdraft protection from savings has gone from $3.00 to $5.00 per incident. A duplicate statement is now $7.00. (You know, all that work to push print on the keyboard, fold the statement and apply postage). Give me a break! Gee, we don't charge if a customer wants a duplicate statement. Perhaps we are missing some revenue there. Perhaps its just nice to still do some things for free. I think the latter. Then there is the "Escheat Fee" which is $50.00. Sounds expensive, but I don't know what it means, so I guess it must be O.K. Besides, I don't think I'll be needing one of those in the near future anyway. Last, but not least, and new for this bank, is a $2.00 "Telephone Agent Fee." My bank representative says that it is a fee for calling and speaking to someone about a routine transaction that could have been resolved by using their automated computer system. (Talk about nerve). In other words, they want you to use the automated computer system that says: "press one for balance, press two for transfers.." You know, those computer menus that we all hate. People still don't like them so I guess the bank figures that charging two bucks for bothering their employees will motivate customers to use the automated system instead. I suppose they will charge me for making the call to inquire about it. I'll look for it on my next statement. Boy, if I charged for every customer that wanted to speak to me I'd be retired on a cruise ship in the Caribbean. (I wonder if I could charge them $2.00 for every time they call me during dinner to tell me about their great mortgage and credit card rates.) Tell me your not sick of those calls.

Now postage has gone up again. I'll have to dig deep for that extra penny. At least that increase was a little easier to stomach. Welcome to the 21st century! Alas, fear not, at Giammalvo's you can still have a duplicate statement or invoice. You can still call us as many times as you want and talk to us as long as you want, all for free. I hope you and your family have a safe, happy and prosperous new year.


---
In Passing.
(Obituaries Courtesy The Standard Times)
We were saddened by the loss of John Canto, who was father of our employee, Rosie Pauline. Born in Sao Miguel, Azores, he immigrated to the United States in 1928 at the age of 14 with his parents, the late Manuel and Fransisca (Mello) Canto. He became a citizen while serving in the Army during the North African Campaign of World War II. He worked for many of the area's textile mills and retired from the Acushnet Rubber Co. in 1978. He was a member of St. Mary's Church and a member of Our Lady of the Angels Club. Mr. Canto played guitar and sang. He also enjoyed cooking and his flower and vegetable gardens.
Donald C. Rumney lived in the New Bedford area until he moved to Wareham in 1975. He served in the Navy during the Korean War and enlisted in the Air Force when his tour of duty was completed. Mr. Rumney retired as assistant deputy registrar after 30 years of service at the Massachusetts Registry of Motor Vehicles. Before working with the registry, he worked at the New Bedford Gas Co. for 10 years and as a postal carrier.
William B. Muldoon, D.D.S. attended Holy Name Grammar School, New Bedford High School, Providence College, Trinity College and Georgetown University. He practiced dentistry in New Bedford until 1976, when he moved his practice to Mattapoisett. He retired in 1993. Dr. Muldoon served as a corpsman in the Navy during World War II and as a Navy dental officer during the Korean War. Throughout Dr. Muldoon's professional career, he achieved national and regional distinctions. He was a member of the medical/dental staff at St. Luke's Hospital. He served as chairman and treasurer of the Southeastern District of the Massachusetts Dental Society for 22 years. He was a member of its House of Delegates for 24 years. He also served as a Massachusetts Dental Society delegate to the American Dental Association.

Helen Pestana was a parishioner of St. Joseph Church. Mrs. Pestana was a secretary for the International Ladies Garment Workers Union for 10 years, retiring in 1988.
Paul B. Kellish, lived in New Bedford for most of his life before moving to Rochester in 1986. He was a graduate of New Bedford High School. He was formerly employed as a bricklayer for the Bricklayers Union Local 39 for many years. He had also served as vice president of his local union. Mr. Kellish was a Marine Corps combat veteran, having served as a sergeant during the Vietnam War in the Tet Offensive. Active in veterans' affairs, he was a co-founder, director, treasurer and clerk of the Southeastern Massachusetts Veterans Transition House in New Bedford. He was a member of the First Marine Division Association, the Vietnam Veterans of America Chapter 499, and the Thomas Tuttle Post Veterans of Foreign Wars in Acushnet.
Swen J. Olaussen, lived in Rochester his entire life. Before his retirement in 1985 he was a technical advisor for Revere Copper and Brass for nearly 40 years. He was instrumental in the creation of the mixing process of copper and silver with the U.S. government to produce U.S. coins. He attended school in Rochester, graduating in 1944, and enlisted in the Army. He was awarded the American Campaign Medal and the World War II Victory Medal. He received an honorable discharge in 1946. In 1951 he received a bachelor's degree in chemical engineering and in 1961 his master's degree in business administration, both from Northeastern University. He was an avid farmer and owned and operated The Christmas Tree Farm on New Bedford Road.
Clifford Sylvia graduated from Holyoke High School in 1940 and lived on Hollyhock Street in New Bedford, working as a carpenter's apprentice. In 1942, he joined the U.S. Coast Guard and was assigned to the USS Callaway. He saw duty in the Pacific Campaign during World War II at Guadalcanal, Saipan, the Solomon Islands, the Philippines, and Okinawa. The Callaway shot down two Japanese airplanes before a Kamikaze crashed into the superstructure and killed 29 crew members and wounded 25 during the Philippine landings at Lingayen Bay. Mr. Sylvia owned Bay State Paint and Contractors, which he ran for more than 10 years.
Jeannette Seguin was a homemaker all her life. Mrs. Seguin was a communicant of Sacred Heart Church, New Bedford, for more than 62 years, and was a member of its Ladies of St. Anne's Sodality and Dames Patronesses. She also was a member of the New Bedford Catholic Women's Club and Le Cotillion.
George Belliveau was born in Acushnet, where he lived until he moved to New Bedford 40 years ago. He was a communicant of St. Francis of Assisi Church. Mr. Belliveau formerly was a lab technician at the Acushnet Co. in the Rubber Division for 43 years. He was an Army veteran of the Korean War.
Manuel Perry lived in New Bedford most of his life. He was a communicant of Holy Name of the Sacred Heart of Jesus Church. Until retiring, Mr. Perry was a buck presser for 23 years at Justin Clothing and a maintenance man at
Sheppard Clothing for 14 years. He was a former member of the Panthers Golden Agers, and Immaculate Conception Seniors.