temperature is at or is likely to increase to potentially dangerous levels, the sensor will trigger the horn to sound three distinct chirps, similar to the "S" in an SOS distress signal. Extreme heat affects infants and small children more quickly and dramatically than adults. Heatstroke, or hyperthermia, occurs when the body's temperature reaches 105F. Dr. Bar-Or's research revealed that the air temperature in a car exposed to the sun on a 95 degree day can exceed 122 degrees within 20 minutes and 150 degrees within 40 minutes. Leaving a window slightly open on a hot, sunny day may do little to prevent the heat inside a vehicle from rising to a level that's dangerous for children, vulnerable adults and pets. Because of the misconception that opening the windows may make a difference, and because of a general lack of awareness about this issue, GM, in partnership with the National SAFE KIDS Campaign, will immediately launch a public education effort. The campaign, called "Never Leave Your Child Alone," will caution parents and care givers not to leave children unattended in vehicles, and to always keep cars locked while they're in garages or driveways.
---
Gas Cap Trivia.

In 1989 the EPA determined that missing gas caps were one of the largest sources of evaporative emissions that damage the atmosphere. Based on studies by GM, a vehicle with a loose gas cap will vaporize more than 4.5 gallons of gasoline per year. In an independent study 17% of vehicles on U.S. highways have either missing or misused gas caps. Insurance industry studies have shown that the incidence of fires in vehicle accidents could be reduced by between 10% and 50% if proper gas cap use was followed.

---
My Turn.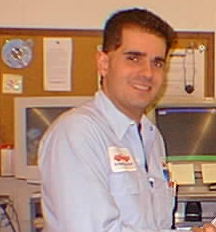 Quite a few of our customers
were nice enough to pass along
comments to me that they enjoyed my
style of writing in the last "My Turn" article.
Well, you asked for more, so, here it is.


It all started with a Toyota 4-Runner. One of our customers had purchased a second key-chain-transmitter from the dealer, for her 4-Runner, (at a price of $145.00). The customer called us wanting to know if we could program the transmitter so it would operate her vehicle. The dealer wanted to charge her $35.00 for this service. Since I had performed the transmitter "learn routine" on other Toyota products I figured I would give it a try. Besides, the customer had just purchased the vehicle from us and I did not feel comfortable charging her for the procedure. How difficult could it be? Well, I should have bit my tongue! Like other vehicle brands, when you add additional key- chain-transmitters, the vehicle's on board receiver has to be programmed to accept the new transmitter as an authorized one. If all the transmitters operated with the same code, everyone would be opening each others cars. The procedure makes you do a series of events so the car's onboard computer will recognize that you want to program transmitters. The procedure for programming transmitters for the 4-Runner was not in our Alldata computerized database, so I called Alldata in California and asked them to send the procedure via fax. Within an hour I had the procedure to program the transmitters. I was astonished at the steps involved to program a transmitter for this car. Are you ready? Here it goes: 1) Make sure the driver's door is open and all other doors are closed. 2) Make sure the key is not in the ignition. 3) Make sure the drivers door is unlocked. 4) Press the power door lock switch from lock to unlock 5 times, ending in unlock, and pressing at 1 second intervals. 5) Close the driver's door. 6) Open the driver's door. 7) Again press the power door lock switch from lock to unlock 5 times, ending in unlock, and pressing at 1 second intervals. 8) Place the key in the ignition and turn the key from lock to on and back to lock. 9) Remove the key from the ignition switch 10) Press both the lock and unlock buttons on the new transmitter for 1.5 seconds. 11) Press any button on the transmitter for at least 1.5 seconds. 12) The transmitter should now work properly. Well, the transmitter did not work. Then I went through the procedure again. Still, a no-go. I went through the procedure a third time, still the transmitter was inoperative. Well, I sent her back to the dealer where she had purchased the transmitter. I guess the procedure is worth $35.00. Seems like everything on cars is getting to be quite the magic act nowadays. I'd like to be a fly on the wall when their technician goes through the same procedure. I wonder if he'll be as frustrated as I was after the third time. Well, perhaps the battery is dead in the new transmitter, perhaps it is not the right transmitter for this car. Whatever!
While we're were on the subject of transmitters, I'd like to share another incident with you that centered around a similar problem. A customer came in this June to request another keyless entry transmitter for her 92 Oldsmobile Cutlas Cieria. I ordered the part, ($99.00, another factory overpriced part, my opinion of course), and called the customer to come by so I could program it to the car. The procedure in the 1992 Cieria service manual is much shorter than the one for the Toyota. That's the good news. The bad news? The service manual is wrong for the 1992 model year. The procedure in the 92 Cieria service manual said to: 1) Turn the ignition off. 2) Jump together terminals A and B of the ALDL (Assembly Line Diagnostic Link) connector under the left hand dash. 3) Press unlock on one transmitter. 4) Press unlock on the second transmitter. 5) Disconnect the jumper wire. Well, let me tell you, I must have done this procedure about six times. The new transmitter would never work. (I was ready to strangle either the transmitter or the car). Fortunately, this customer was also very patient. I decided to return to our in-shop library and pull the service manual for a year older car, a 1991 Cieria. The procedure for the 1991 was totally different. That procedure said to 1) Access the remote entry connector, (green in color), in the trunk under the left rear wheelhouse trim. 2) Put a screwdriver between the two terminals in the connector to join them together. 3) Push any button on the first transmitter. 4) Push any button on the second transmitter. 5) Remove the screwdriver and reseat the trunk trim. It worked! But why did I have to use a 1991 procedure on a 1992 car? Why did the 1992 procedure not work? Alas, it brings back memories of one of my General Motors instructors. In the past, a GM instructor told us in class that the acceptable error in a service manual for any car is 20%. Meaning that, if a typical service manual for one car is about 1,000 pages long, in that manual, it is acceptable to have a maximum of 200 incorrect pages. According to him, the manual has to be at the dealership by the time the first new car is. Due to that rush on engineering and publishing, this 20% margin of error is considered acceptable. I think that this error rate is way too high! No wonder technicians spend a portion of their day trying to figure these cars out. Even the factory service manuals are wrong! Remember, the repair work we do can only be as good as the printed service manual. If the reference information from the factory is incorrect, how good will a repair be based on flawed instructions? Who has to take the blame when something goes wrong? And, how does that end up being the technician's fault? Don't make me go there!
Then there was a recent little situation with my car, a 1997 Nissan. Several weeks ago the alternator started making a whining sound. Not really new to me as I have recently seen a pattern of 1997 Nissans needing alternators at low mileage. All replacement alternators today are rebuilt, whether you purchase them from the dealer or from an aftermarket source. Both the dealer part and the aftermarket part come with the same 12 month / 12,000 mile warranty. In addition, the aftermarket part has a considerably lower cost. With the lower cost combined with the same warranty, we normally suggest our customers use the aftermarket part. I figured I would be special and opt for the genuine Nissan alternator. Well, try putting it in. First you have to either pull the radiator completely out, or, if your brave, pull the right front wheel off, remove the air conditioner compressor, swing it aside, then pull the alternator. Although I'm only 34, its getting tiring working on cars during the day only to go home at night and work on your own car. (One of the reasons I bought an Asian car. Less repairs, or so I thought). Anyway, I opted to have our brave staff replace the alternator. Nelson was the lucky one to get stuck with such a fun job. After pulling the wheel and air compressor, the old alternator came out relatively easily. Now try putting in the new one. Well, it has to be the same size as the one that came out. Oh, really? Not! The Nissan replacement alternator has a larger bracket than the original alternator's design. Like most things in automotive, manufactures seem to have a strange mentality. "Design the new one so it will also barely fit the older models, so that we only have to make one type." Well, I'm getting sick and tired of that rationale. The replacement Nissan, or shall I call it "fits all" alternator has a wider yoke bracket than the original. As a result, the alternator bolt just barely catches two or three threads. This did not seem right to me. Especially where I bought the genuine Nissan replacement. I called a friend at the Nissan dealer. He told me that it was the correct one and, yes, the mounting bolt will hold it, but just barely. Thinking back to last month, we had another 97 Nissan that needed an alternator, yet we did not have this trouble. How come? On that car, we elected to use the aftermarket alternator. In that case, the alternator rebuilder rebuilds the old unit so you get an alternator back with the same case and bracket. Serves me right for trying to be different. Well, my car's on the road again. I hope those two or three bolt threads that are holding it in will not give way on our local bumpy roads. If you see an alternator lying somewhere in the street, please pick it up, it might be mine.

---
Ford Recalls Firestone Tires Again!

Ford Motor Company recently announced that it will replace ALL 13 million Firestone Wilderness AT tires on its vehicles. Ford's action, which the company described as precautionary, is based on analysis of data on the actual road performance of these tires, comparisons with the performance of comparable tires by other tire makers, a review of information developed by and received from the National Highway Traffic Safety Administration (NHTSA), and extensive laboratory and vehicle testing.

The company said that many of the non-recalled Wilderness AT tires on the road today appear to perform substantially better than the tires recalled last year. However, analysis of real world performance data, information from NHTSA and lab and vehicle testing indicate that some of the non-recalled Wilderness AT tires will probably experience elevated failure rates at some time in the future. Specifically, the company's decision to replace all Wilderness AT tires on its vehicles is based on several factors, including: Field data, which is real world tire performance data, recently received from Firestone showed that failure rates had increased for some of the Wilderness AT tires. Projections indicate that the failure rates, while still relatively low compared with tires recalled last year, could reach unusually high levels in the future. Information shared by NHTSA showed that failure rates in actual road performance for many of the non-recalled Wilderness AT tires were measurably worse than comparable tires from other manufacturers. Laboratory and vehicle testing by Ford shows that tire design and variations in physical characteristics of the non-recalled Wilderness AT tires make them less durable than comparable tires from other manufacturers. The comparable tires include Goodyear tires on more than 500,000 Explorers. These test results are consistent with the NHTSA information and the real world data described above. Given the consistency among results from Firestone, NHTSA and Ford's own data, the company concluded that it does not have sufficient confidence in the future performance of some of the Wilderness AT tires and that it will take the precautionary measure of replacing all Wilderness AT tires on its customers' vehicles. William Clay Ford, Jr., chairman of Ford Motor Company, said, "Today's announcement to replace Wilderness AT tires reflects our deep-seated conviction that customer safety always comes first. Ford will be replacing twice as many tires as last year, and the company is working with other major tire manufacturers to expand the supply of replacement tires as rapidly as possible.

Initial details of the program:

The company is replacing all 15, 16, and 17 inch Wilderness AT tires on Ford Motor Company
products. Most Wilderness AT tires are found on the following Ford vehicles: Explorer, Expedition, Ranger and some F-150 pick up trucks. More than 80% of the tires in question are on the Explorer. Ford will reimburse customers who purchase tires from other authorized retailers, with proof of purchase, up to a maximum amount. The maximum amount for 15- and 16-inch tires is $110 per tire; for 17-inch tires, $130 per tire. A list of recommended replacement tires will be available at authorized dealers. Firestone tires will not be used as replacements in this program. Because real world tire performance data, information from NHTSA and technical analysis shows that newer tires, those under three years old, have much lower failure rates, Ford will be prioritizing replacement of tires based on the age of the tire. Ford will replace all tires, but will be working with its customers to prioritize the replacement of older tires. Ford will contact customers by mail shortly regarding the replacement process. Customers can contact Ford at any time for information through the company's toll free customer service center at 866-300-1226. Other Firestone tires on Ford Motor Company vehicles are not part of this program.




---
In Passing.

(Obituaries Courtesy The Standard Times)

Walter Ulewicz Jr., born in New Bedford, he spent his early years in New Bedford and lived in Fairhaven for 13 years before moving to Rochester 18 years ago. Mr. Ulewicz was employed for the past nine years as a stationary engineer for Myrant Co. in Sandwich, formerly ComElectric. He had previously been employed as a stationary engineer with ComElectric in New Bedford for a year, Brayton Point in Somerset for five years and Acushnet Co. for 10 years. He earned his associate's degree in business management from Newbury Junior College in New Bedford. Mr. Ulewicz was a Navy veteran, serving in the Cuban conflict and as a master sergeant in the Air National Guard for more than 20 years. He was active with the Coast Guard Auxiliary, Flotilla 67, in Marion, where he was the vessel safety check examiner and the marine dealer visitor. Mr. Ulewicz Jr. held AUXOP and was a coxswain and air observer-in-training. He had served as past vice commander for the unit.

Calvin C. MacKay, born in New Bedford, he lived in the city most of his life. He was a member of the First Church of the Nazarene in New Bedford. Mr. MacKay was a fork-lift operator for 28 years for Velvet Drive Transmissions of New Bedford. He was a member of the United Auto Workers Union. He enjoyed golfing.