Service Dealer Spotlight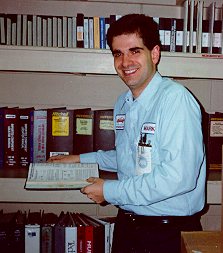 Mark Giammalvo specializes in driveability diagnostics at his family business, Sam Giammalvo's Auto Sales & Service, Inc. in New Bedford, MA.
Mark, who has been with the business for over 20 years, is an ASE Master Technician and Parts Specialist. He also holds the ASE L1 certification, and has an associates degree in business management.
Mark is also a writer for Motor Age Magazine and is the past secretary of the Alliance of Automotive Service Professionals, (AASP).




IT WILL CHANGE THE WAY YOU LOOK AT THINGS

(August, 1996 Page 84)





There are certain events in life that compel people to write. It is usually something of a serious nature. Something worth documenting. Something that touches you in a special way. Something that winds up being etched into your memory for life. This was one of those events. It all started last Thursday morning. There I was having my morning coffee at the local restaurant where I usually go for breakfast. Nothing unusual here. Until, in walks the son of our head technician. After a quick hello he mentions that his dad won't be in today. As he told me how his dad was rushed into the hospital, my stomach turned with the seriousness of our conversation. Before we parted, I told him to keep me abreast of the situation since the entire staff and I would be concerned. Back at the shop as I answered phones, spoke to customers and repaired cars, I couldn't help wondering about our employee. I found that I couldn't concentrate on any of the days problems.

As Thursday evening came and went, the updates slowly trickled in from the family. The outlook was grim. Our employee was slipping away. In the middle of a hectic Friday afternoon came the call. I knew by the tone of the voice of the caller on the other end. We had just lost one of the best. As I hung up the phone, I still couldn't believe what had just happened. It all seemed so fast. In a flash, a friend of fifteen years was gone. After regaining my composure, I informed my father and brother. We immediately stopped all work in the dealership and gathered all the employees together for the announcement. They knew before the words left our lips. Holding back the emotion in front of the crew was the hardest part for us. As employers, we constantly have to show a certain strength and positive attitude. That was never harder to do than now. As I looked down, my eyes focused on one of the wheels on a mechanics work cart. I started to think about how our friend kept so many customers "wheels rolling" throughout all the years. There was no one that had helped more people than him.

That evening I was reading a piece of literature from the tourist department of Vermont. I noticed Vermont's advertising slogan: "It will change the way you look at things." I couldn't think of anything more true about our friends death. It will change the way I look at things. It will change the way I plan my future. It will change the way I talk to a customer. It will change the way I value my family time. It will change every aspect of my life.